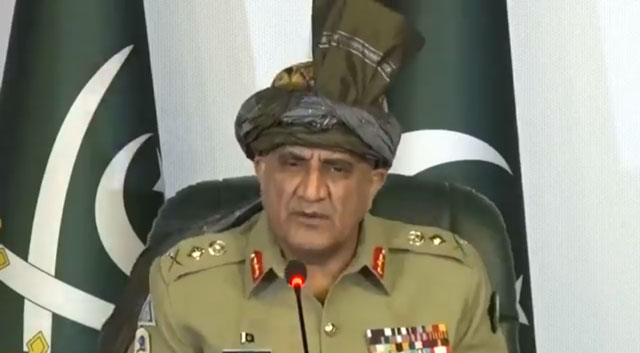 ---
ISLAMABAD: The army threw its weight behind the demands of merger of the Federally Administered Tribal Areas (Fata) with the rest of the country in a statement issued on Wednesday at a time when the government is under pressure to table the Fata reforms bill in parliament.

The statement came from Army Chief General Qamar Javed Bajwa during his interaction with Fata delegations of tribal elders and youth jirga held at the General Headquarters in Rawalpindi, according to the Inter-Services Public Relations (ISPR).

The ISPR said the Army Chief assured both the delegations that Pakistan Army fully supports mainstreaming of Fata and shall pursue it in line with the aspirations of "our tribal brothers".


"Army supports mainstreaming of FATA in line with aspirations of tribal brothers. Youth to cont working hard being future leaders"COAS(2of2) pic.twitter.com/GKcnHtBb4g

— DG ISPR (@OfficialDGISPR) December 13, 2017


The army chief's support for Fata reforms came just three days after the government relented on its promise to table the much-awaited Fata reforms bill in the National Assembly.

The government's last minute change of decision drew strong reaction from opposition parties, forcing them to boycott the National Assembly session until the government presents the bill in the lower house of Parliament.


Delegations of FATA Elders & Youth met COAS at ISPR.Acknowledged Army's contributions, discussed their views on mainstreaming of FATA.(1of2) pic.twitter.com/zyPxl46Ctm

— DG ISPR (@OfficialDGISPR) December 13, 2017


The government reportedly delayed the presentation of the bill after reservations by its allies -- including JUI-F's Maulana Fazlur Rehman and Pakhtunkhwa Milli Awami Party (PkMAP) chief Mahmood Khan Achakzai.

Also, Prime Minister Shahid Khaqan Abbasi convened a meeting of parliamentary leaders of all political parties on Friday to discuss the controversy. Tribal elders and opposition parties have been demanding merger of FATA with Khyber-Pakhtunkhwa and doing away with the colonial era laws that govern the region.

Meanwhile, according to the military's media wing, the army chief separately held detailed discussion with both the delegations.

The delegations acknowledged and appreciated Pakistan Army's sacrifices, efforts and contributions towards peace and stability, and socioeconomic development of Fata. The delegations expressed their respective views regarding mainstreaming of Fata and the way forward.

Gen Qamar lauded tribal elders and youth for their determination and support to Pakistan Army in the fight against terrorism.

He valued their views regarding the future of Fata. He said achievements through sacrifices of brave tribals of Fata were being consolidated while "we transit from relative stability to enduring peace".

The army chief also shared his engagement with the Afghan leadership for enhanced cooperation and security measures along the border with Afghanistan. He advised the younger generation to continue playing their role towards peace and progress of Fata and Pakistan as "they are the future leaders".

Commander Peshawar Corps, DG ISI, CGS and other senior army officers were also present.