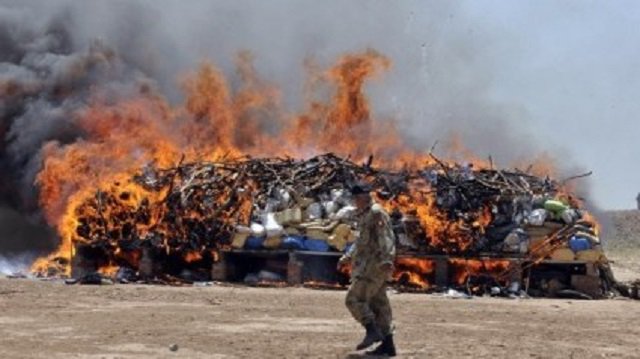 ---
ISLAMABAD: Director-General (DG) Anti-Narcotic Force (ANF) Major General Musarrat Malik has said that the menace of drugs is one of the most damaging and life crippling threats for the society.

He was speaking during a central drug burning ceremony organised by ANF in Islamabad.

"ANF is striving for the absolute elimination of drugs in order to achieve the goal of establishing a drug free society in Pakistan," he told the people present at the ceremony.

Praising the professional performance of ANF, Malik said that in 2017 a total of 1063 cases related to drugs were registered and 1204 people involved in drug trafficking were arrested.

The director general said that out of 786 cases ruled on by the courts, 753 met with successful convictions, which amounted to a 96% successful conviction rate.

Burn: ANF destroys huge cache of drugs

"31811 kg of opium, 7132 kg of morphine, 19568 kg of heroine, among other drugs, were seized in operations related to drug trafficking by the ANF," he appraised the audience.

ANF also organised numerous drug abuse prevention and awareness activities throughout the country during the past year, Malik said.

"Our force opened a 145-bed drug treatment facility in Islamabad, Quetta and Karachi. A proposal to establish a 48-bed Female Juvenile Drug Treatment ward inside the existing center in Karachi is also in the works."

"1.805 tonnes of narcotics are being burnt at the ceremony today, and the ANF has torched a total of 135.064 tonnes of drugs worth 3951 million in Lahore, Peshawar and Karachi," DG ANF reported.

Among those present at the ceremony was Federal Minster Narcotics Control Lt Gen (R) Salahuddin Tirmizi, Secretary Ministry of Narcotics Iqbal Mehmood, United Nations Office on Drugs and Crime (UNODC) Head for Pakistan, representatives from civil and military leadership and media personnel from across the country.

Drug burning ceremonies take place in various cities

Lt Gen Tirmiz, who was the chief guest at the occasion, also addressed the gathering. He said that, "Pakistan is facing both external and internal threats, and under such circumstances, drug crime is badly affecting society. Hence, it is mandatory to tackle this menace with iron hands."

UNODC Head for Pakistan also highlighted the enormity of the drug problem in the region and its effect on Pakistan at large when he spoke at the drug burning ceremony.

"Pakistan is a poppy-free country since 2001, but the region produces 90 per cent of the world's opiates, which puts Pakistan in double jeopardy, both as a victim and transit country for drugs."
COMMENTS (1)
Comments are moderated and generally will be posted if they are on-topic and not abusive.
For more information, please see our Comments FAQ