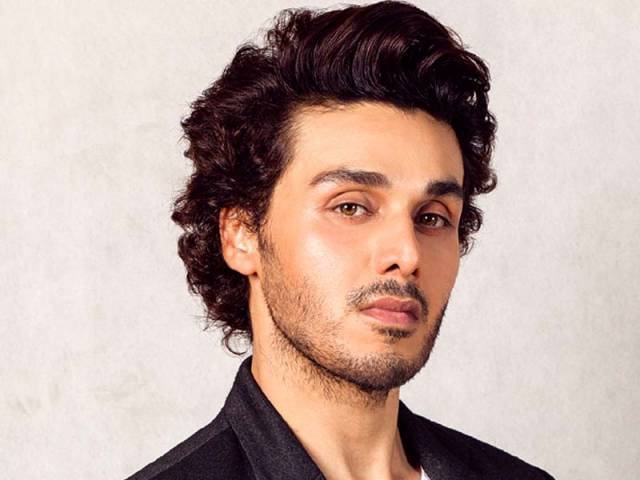 ---
DUBAI: After his most famous role as Imtiaz in Udaari, Ahsan Khan is back on the telly. The actor garnered bouts of critical acclaim for his role as he took a major risk deviating away from his chocolaty hero image. He was also recently seen in Ishq, a play based on Heer Ranjha - originally penned by Waris Shah - that was showcased on Sadler's Wells theatre in London. The actor now returns to television with a much-awaited play called Aangan, directed by Mohammed Ehteshamuddin, starring alongside Sajal Aly, Ahad Raza Mir and Mawra Hocane.




Speaking to The Express Tribune, Ahsan spilt some details about Aangan and his character in the serial.

The Express Tribune (ET): What can you tell us about Aangan and about your character in the show?

Ahsan Khan (AK): Aangan is based on a beautiful novel by Khadija Mastoor. I hadn't done anything after Chupan Chupai, Rehbaraa and Ishq. MD productions and Ehtesham were my biggest attraction towards it and I loved Mustafa Afridi's Sang-e-Mar Mar, who is now doing the screenplay for Aangan. I found the combination great. I can't say much about the character at the moment but it's a very subtle and straight. There aren't a lot of angles that I can go into great detail about but on the whole, the play is very well written.

https://www.instagram.com/p/BbJrNcUAVAl/?taken-by=khanahsanofficial

I've always liked period plays; the way women are dressed, the way we speak, the language, the beautiful antique homes, havelis, the music - all of that beautifully portrays our reality, our culture, who we are and Ehtesham is the best person to bring all of that to screen. That's when I realised I need to do this play. The actors that play the parents and older characters are also very well picked and the story itself is really great. Even if you take away my character, it's a very gripping story. It's basically a family drama that is set in the partition era. It's not like Dastaan, which was mostly anchored on partition; this story is based on a family during political turmoil.




ET: You've done films and you have been doing TV. Why did you do theatre at this point in your career?

AK: I studied many actors and their lives; they've all done theatre. When Hollywood actors graduate from their acting schools, they head to theatre as well. Even after they've become successful, they return to theatre at some point in their life.

I've done amateur theatre before, but this was something I had never done. I always felt I wanted to know what it was like to do theatre. Earlier when I was offered to do it in Pakistan, I didn't find it fascinating but when I was presented with a part in a play that was going to be held at Sadler's Wells, I knew I had to do it. I have lived in London and I knew how prestigious this was. Sadler's Wells is the second best theatre in London and even when you go on a London tour, you're told that you need to watch theatre here. When I used the tube in London, I saw posters of The Lion King, Bombay Dreams and Phantom, and also watched a few plays at Sadler's Wells. I wondered if our stories would someday be shown at such theatres as well.

https://www.instagram.com/p/BY1J0d4AL9a/?taken-by=khanahsanofficial

I have only been acting in Urdu since the past 15 years and this play was supposed to be in English – something that I had no practice acting in. I enjoy doing things that push my limits and I wanted to challenge myself which also usually drives me to anxiety. However, this play came to me at a time when I was taking a break from television and my films were almost done, making it a perfect timing.

ET: Did you audition for Ishq?

AK: The producers had auditioned around 100 people. Some of the people involved in this play were Pakistani and they had seen me in Udaari, but they wanted to audition me in English. The writers and all the other actors were new, but the script was very well written. I wanted to explore and see how British theatre works. Also performing live in London theatre, in front of 1600 people was an ideal situation for me. I only had 20 days for rehearsals even though the producers wanted more, but it all worked out in the end.




ET: Are there any upcoming dramas or films?

AK: Apart from Aangan, there's one film that I am working on next year. There's also a script that I am currently reading. The other films, Rehbaraa and Chupan Chupai have completed filming. However, I want to come back on television. I miss that audience because I feel that relationship was more personal and I would like to stay connected to my TV audience.

https://www.instagram.com/p/BbETkTcgcE1/?taken-by=khanahsanofficial

ET: Why do you say that? Is the cinema experience not personal?

AK: A lot of our people can't afford cinema. There is a giant population that lives in villages and don't have access to cinema. However, they can watch TV and enjoy it thoroughly as well. Today if you walk into some dhaaba in some village, they'll be watching TV. Whether it's PTV or any other channel – they're watching it. They are our people too and we need to entertain them as well just like we entertain city audiences. There are also a lot of people outside Pakistan don't watch our films, but they follow the dramas religiously. Our dramas have beautiful, detailed scripts with intriguing characters which I feel is a lot of fun.


ET: Despite the revival in cinema, we're still not doing as well as we should. A lot of people say that we're only doing masala films. There were films like Dukhtar and Moor, but there was a divided opinion amongst the people on those films. What are your thoughts on that?


AK: I'm pro-both. I think there's merit to masala films. When people are making masala films, they should be entertaining people. All over the globe when you talk about entertainment, there are circuses and comedy theatre. You can't expect them to be serious. Everything can't be black and white and we need variety. Look at the world around you - food, people, animal, trees - everything has its own colour, its own individuality. That's what the industry should be like too. You should have every kind of flavour. We're always compared to India. They have a great influence on us and we share the same border and language. Their movies range from serious issues to senseless comedy as well and we should be open to that too. As an industry, we need to grow and make good films of all kinds. I loved Punjab Nahi Jaungi and Na Maloom Afraad. I loved Bol and Dukhtar too and I feel the variety in cinema is beautiful.

ET: Is there any performance that hit you in the past decade?

https://www.instagram.com/p/Bayrjt8gL4F/?taken-by=khanahsanofficial

AK: Yes, Brad Pitt in The Curious Case of Benjamin Button. There was a lot of prosthetics and make up involved but that role of the boy was very impactful. As an actor, I admired that role a lot. I also love watching Liam Neeson and Leonardo DiCaprio's films. However, some of the recent Bollywood films have failed to leave an impression on me. Sanjay Leela Bhansali's films are impactful and I really enjoyed watching Secret Superstar.

ET: You are very active when it comes to addressing social issues. What's your say on taking a stance against such issues?

AK: As celebrities, we have a lot of clout. When public figures like us go out and support these causes, the government starts paying attention too. I think it's important to set an example instead of sitting at home and just writing comments. It's better if we can actually go out there and physically make a difference. We need to make a move to actually change things.

Have something to add to the story? Share in the comments below.