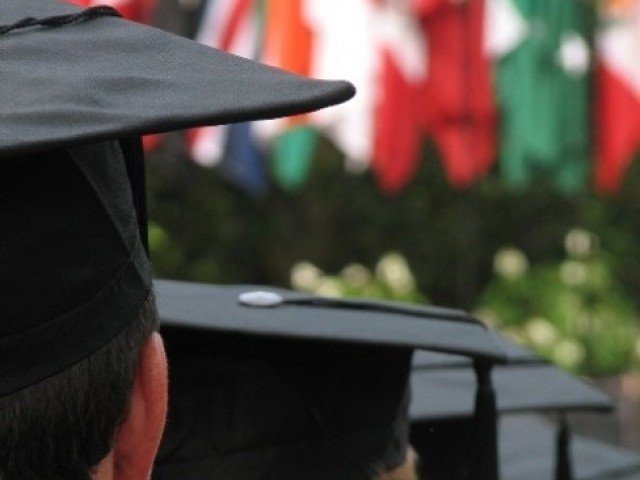 ---
KARACHI: The Institute of Business Administration (IBA) awarded one PhD, 721 bachelor degrees and 170 masters during its annual convocation on Saturday. Twelve students were also awarded gold medals.

Honours were awarded to students enrolled in the BBA in accounting and finance, economics, mathematics, social sciences, liberal arts, computer sciences and the morning, evening and executive MBA programmess.

Former Higher Education Commission chairperson Dr Attaur Rahman was the chief guest at the ceremony. Governor Mohammad Zubair was also present and expressed his delight at meeting the varsity's alumni.

The institution also awarded a posthumous BBA degree to Hiba Rehman, who passed away two months ago due to cancer. Her brother and sister received the award on her behalf.

Speaking on the occasion, Zubair said IBA is a renowned academic institution and its graduates are known for their outstanding performance in every field. "IBA undeniably deserves an esteemed place in Pakistan for its meritorious services and performance," he said.

Convocation: Youth urged to use skills for nation's benefit

Zubair added that the institute's curriculum is in keeping with the demands of modern academics, which set the premise for the institution's credibility. "Higher education is the key to all problems. No society can progress without it. The government is doing its best to make higher education its top priority," he said. "In addition to higher education, universities must also promote the culture of research," he added. "We must applaud the services of Dr Rahman for his immense contributions in academic landscape of the country," said the governor.

Dr Rahman said presently, development in social and economic arenas is not entirely dependent on natural resources. The developed world runs on models based on knowledge and information, he said, stressing the importance of high-quality education and lauding IBA for its efforts to impart such education.

IBA Director Dr Farrukh Iqbal said the students worked tirelessly for their degrees. The institute is giving a lot of importance to research as well as updating its syllabus to provide multiple options to the students. Dr Iqbal said the total faculty on campus comprises 118 teachers, of which 65 held PhDs.

IBA's faculty members published 14 research papers in journals of international repute last year, which is a big achievement for the institution, he said.

279 receive degrees at NUST

According to students who were awarded medals, the day was one to remember. They said they worked for years to reach this day, which would not have been possible without the help and support of their parents and teachers.

One student told Express News that he was currently working in the private sector and, now that he had been awarded a degree, he hoped to open his own business and one day further his education.

Another student who graduated with a degree in economics said that she always wanted to study economics. "I faced a lot of difficulties during the course of my studies but my parents always supported me and I would not be here today, on the best day of my life, if not for their support," she said.