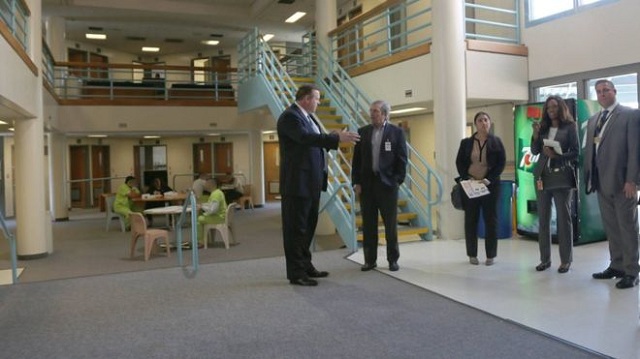 ---
California congressman calls for inquiry into claims that female immigration detainees are being locked in rooms for 23 hours a day and given plastic bags to use as toilet, reported BBC.

After visiting the facility near San Francisco, Mark DeSaulnier is urging the US attorney general to investigate the matter at hand. San Francisco Chronicle reported that a detainee even begged to be deported to Honduras rather than "stay in that jail".

The Contra Costa County sheriff, who runs the centre, denies the claims.

Pakistani migrant accused of 70 murders detained in Hungary

The West County Detention Facility in the city of Richmond is operated by the local sheriff's office under a $6m annual contract with US Immigration and Customs Enforcement (ICE), according to a newspaper.

The county public information officer, Jimmy Lee, told the BBC: "There are bags. These are for the inmates that are sick, sometimes suffering from drug withdrawals." He said the building contains 24 toilets and is "dormitory style", with inmates "free to come and go".

But Dianny Patricia Menendez, who had been held at the jail since May, told the Chronicle that inmates were handed red biodegradable bags to use as a toilet. She also added that she could hear other female inmates screaming and banging on cell doors as they pleaded to use a bathroom.

Menendez has since been deported after asking an immigration judge in October to let her go back rather than bear the detention conditions implemented.

Karina Paez, from Tijuana, Mexico, said her roommate had defecated on herself because she did not realise they had to ask for biodegradable bags, according to the newspaper.

The Chronicle reports that Paez, 36, was arrested two years ago in Missouri for heroin dealing, and says she is ready to leave the US. "I can't do this," she told the Chronicle. "I really can't be in my room 23 hours a day. I'm going crazy."

DeSaulnier, who represents California's 11th district, was escorted through the facility by Contra Costa County law enforcement chiefs on Monday. In a statement to BBC, the congressman said, "The recent reports of ICE detainees being mistreated are serious and deserve investigation. After touring the facility earlier this week, I left with more questions than answers."

Sheriff David Livingston said in a statement that an internal investigation had been launched. "We are responsible for over 1,600 inmates every day, day in and day out, and the allegations of the few ICE female detainees are a fraction of this number. Their complaints are and will be fully investigated."

Migrants go on hunger strike at Czech detention centre

Twenty-seven female detainees at the jail signed a letter dated September saying they were being treated poorly because of their immigration status. They sent the correspondence to Civic, a San Francisco group that monitors jails where immigrants are held.

"When an ICE inmate asks, we are always told to either hold it, or to use a 'red bag' - Bio Hazard Bag. This is unacceptable," 40-year-old Mexican woman wrote in the letter.
COMMENTS
Comments are moderated and generally will be posted if they are on-topic and not abusive.
For more information, please see our Comments FAQ