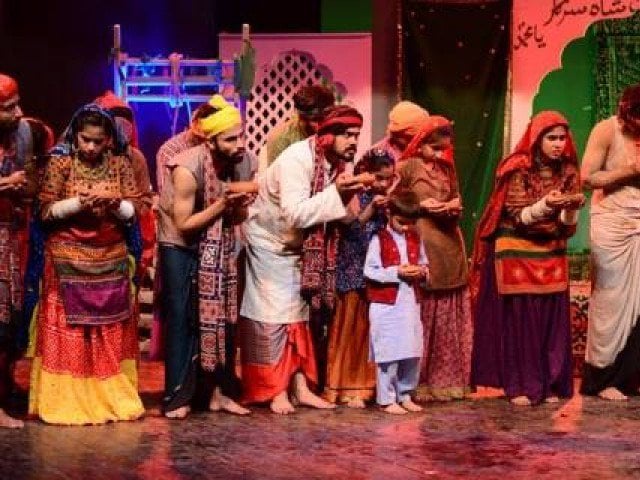 ---
LAHORE: Lahore's theatre industry has been deteriorating for the last few years, as ticket prices have considerably increased throughout. Seems like it's not as easy for Lahori play lovers to go out and fulfill their desire for theatre like before.

The implementation of new rules and regulations has resulted in stage producers having to pay more to the film producers – ensuing increased ticket prices. Commercial theatres in Punjab have to pay a considerable sum of money to the concerned producers to be able to use films' songs in their shows.

Classic play 'Kala Mainda Bhes' graces theatres in Lahore

This arrangement was decided between the film associations and theatres, with the Punjab government's involvement. All of Lahore's commercial theatres will start new stage plays from December and have to pay around Rs5, 000 per song as well as an additional Rs2, 500 to the film associations.




There was a 25% increase in the ticket prices as well as the introduction of new plays to compensate for the organisations' extra costs. It was upon the film producers' requests that the rates were increased as they were struggling to pay for the songs within their plays which have an average of six songs each.

It is these songs and the dancers that attract the most audiences, and generate revenue for the theatre. Stage plays are a big source of entertainment within Lahore, especially on the weekends or special occasions such as Eid.

No Indian showbiz personality willing to attend Faiz Ahmed Faiz Festival

"It's not usually an expensive source of entertainment for the public besides the VIP seats. There are also tickets for the common viewers at Rs200 within different stage halls. However, now that producers have asked us to pay out more, then obviously the viewers will also suffer," stage supervisor Javed Qaiser told The Express Tribune.

He continued, "Our association tried its best to convince the government representatives and film association's officials on this issue but they still put pressure on us. We ended up agreeing to their demands which has resulted in all of the stage halls increasing their rates."




Stage actor Sitara Baig went on to say, "It is sad that the prices have had to increase. Surely our audiences will suffer as it is one of the only sources of entertainment for the less fortunate. Only some can afford to pay in thousands to watch dance performances."

She added, "Now, if artists also demand an increase in their pay, the situation will definitely worsen."

'Ainak Wala Jin' cast pays tribute to late Bil Batori actor

Stage director Goshi Khan spoke about the audiences. "In recent years, without any interest of the government, our viewership increased and it is due to the public's love for theatre. Even though many stage halls have been constructed within different cities of Punjab, such pricing will automatically damage our popularity."

Film producer Chaudhry Ejaz, however, begs to differ, "The film producers association's demands were fair. These stage producers use our songs and earn huge amounts of money. Therefore, they should have to pay out to the concerned film producers.



Have something to add to the story? Share it in the comments below.