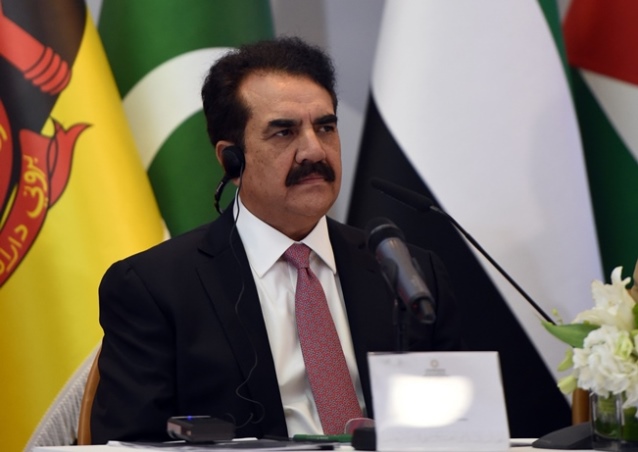 ---
ISLAMABAD: Defence ministers of the countries that are part of the Saudi-led Islamic military alliance have finally unveiled the coalition's broader mandate that envisages joint military operations against terrorism while suggesting a raft of other steps to deal with the menace.

But the final declaration issued on Sunday after the ministers meeting in Riyadh suggested that it would be up to the member states to decide the extent of their participation in the coalition, something that would provide enough room to Pakistan to maintain a delicate balance in its ties -- both with Saudi Arabia and Iran.

The alliance's terms of reference (TORs) were finalised at a meeting of defence ministers of the member countries forming the Islamic Military Counter Terrorism Coalition (IMCTC).

Pakistan's Defence Minister Khurrum Dastagir represented Pakistan at the daylong meeting presided over by Saudi Crown Prince Muhammad bin Suleman.




According to the declaration, the ministers laid stress on the importance of the military role in combating the threat of terrorism, enhancing security and peace in the coalition member countries and contributing towards regional and international security and peace.

"The ministers emphasised the importance of providing necessary military capabilities to ensure that terrorist organisations are weakened, dismantled, eliminated and deprived of the opportunity to reorganise," it said.

Saudi-led military alliance to formally shape up by end of next year

Within the framework of the IMCTC, participation of the coalition states will be defined in accordance with each country's capabilities and resources, as well as in accordance with each country's desire to participate in a given military operation.

Pakistan had principally agreed to be part of the coalition but withheld its decision regarding the extent of its role till the ToRs were finalised.

While agreeing to be part of the coalition, Pakistan had all along stated that it would not allow its troops to participate in any military action outside the country. Islamabad also insisted that it would not become part of any initiative aimed at any other Islamic country.

The 41-nation alliance was first announced by Saudi Arabia in December 2015. But key countries such as Iran, Syria and Iraq were not invited to join it, something that strengthened fears that the Saudi initiative was meant to target certain countries.




This put the Pakistani government in a tight spot because it neither wanted to annoy Saudi Arabia nor undermine its ties with neighbouring Iran. That was the reason Army chief General Qamar Javed Bajwa recently travelled to Tehran and held wide-ranging talks with the Iranian leadership on the issue.

The Saudi-alliance is headed by former Army chief Gen (retd) Raheel Sharif, who in his address dispelled the impression that the group was sectarian in nature and had any sinister plans.

Speaking at the conference, the IMCTC's Military Commander General Raheel insisted that the sole objective of the alliance "is to counter terrorism and it is not against any country or any sect".

He said while all individual states were making efforts against the menace of terrorism, the required level of synergy and resources were lacking. He said the IMCTC would support its partners mainly through intelligence sharing and capacity building.

General Raheel said Muslim world was the biggest victim of the menace of terrorism and in the last 6 years alone, more than 70% of all deaths attributed to terrorism, had occurred in Muslim countries.

"The fight against the faceless enemy with extremist ideology is complex and challenging, requiring collaboration. Pakistan has turned the tide and has defeated the menace," he said.

Pakistan nears its moment of truth

Reaffirming Pakistan's historical and fraternal relations with the Kingdom of Saudi Arabia, the defense minister – in his address – assured Saudi Arabia and the participating countries of its support and cooperation within the mutually agreed framework of the IMCTC.

Dastagir acknowledged and appreciated efforts of the Saudi leadership in building partnerships to counter the scourge of terrorism and extremism. He highlighted Pakistan's key role in the global fight against terrorism and showcased Pakistan's successful counter terrorism operations and the comprehensive National Action Plan.

Meanwhile, Saudi Arabia's crown prince vowed to "pursue terrorists until they are wiped from the face of the earth" as officials from 40 Muslim countries gathered on Sunday in the first meeting of the counter-terrorism alliance.

"In past years, terrorism has been functioning in all of our countries... with no coordination" among national authorities, Prince Mohammed bin Salman, who is also the Saudi defence minister, said in his keynote speech at the gathering in Riyadh.

"This ends today, with this alliance."

Prince Mohammed said Friday's "painful event" was a reminder of the "danger of terrorism and extremism".

"Beyond the killing of innocent people and the spread of hatred, terrorism and extremism distort the image of our religion," he said.

With additional input from AFP