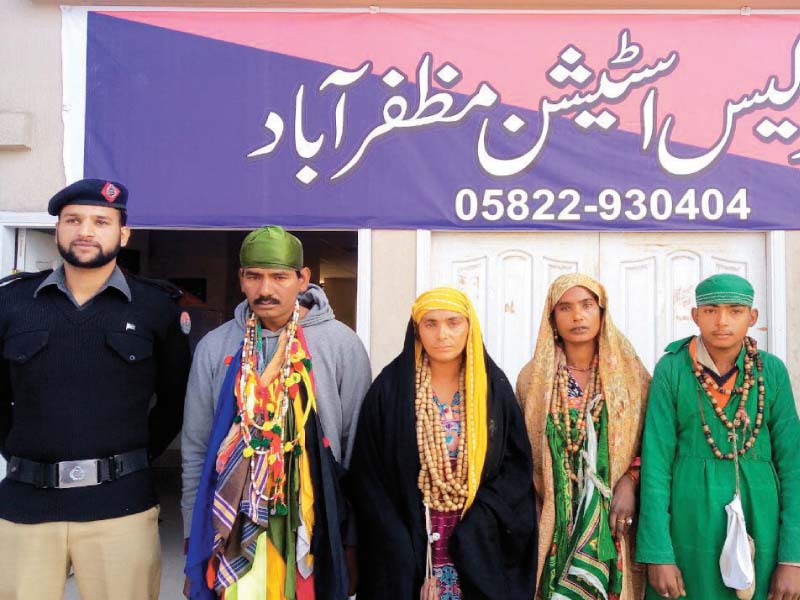 ---
MUZAFFARABAD: A four-member group of fake faith healers or amils along with two women on Saturday was arrested here in the capital city of Azad Jammu and Kashmir (AJK) for collecting alms in the names of various shrines of Punjab.

Two women and two men clad in strange cloaks green, yellow and black colours to give an impression of being mystics were going door-to-door collecting funds to supply goats and sheep for sacrificing at shrines, SHO City Police Rashid Habib said.

Neelum-jhelum project should address Muzaffarabad's water needs first

According to SHO Habib the four-member group of amils was arrested from Sethibagh area of the capital city on a special tip-off. They are the residents of Faisalabad, he said.

The amils identified as Zakir Hussain, Shaukat Ali, Shahnaz Bibi and Shazia were collecting money from housewives on the name of goats and sheep they deliver to different shrines of Punjab.  Habib said that an FIR has been registered against these impersonators.

The police officer further said the amils were cheating public at large in the name of undoing black magic or casting spells on enemies to earn money in the capital city.

Fake faith healers arrested in AJK

"The amil group was going door-to-door seeking alms from housewives in the name of different shrines of Punjab. The housewives were giving money and gold ornaments to these fake amils alms for different shrines," SHO City Police Habib added.

The police said that it was the third trip of the arrested amil group who had visited the capital city twice earlier. The fake faith healers were using shrines of the capital city for the night stay. SHO Habib said that they reRs25,000 from the possession of amil group collected as alms from the last two days in the different residential areas of Muzaffarabad.

Published in The Express Tribune, November 26th, 2017.
COMMENTS
Comments are moderated and generally will be posted if they are on-topic and not abusive.
For more information, please see our Comments FAQ