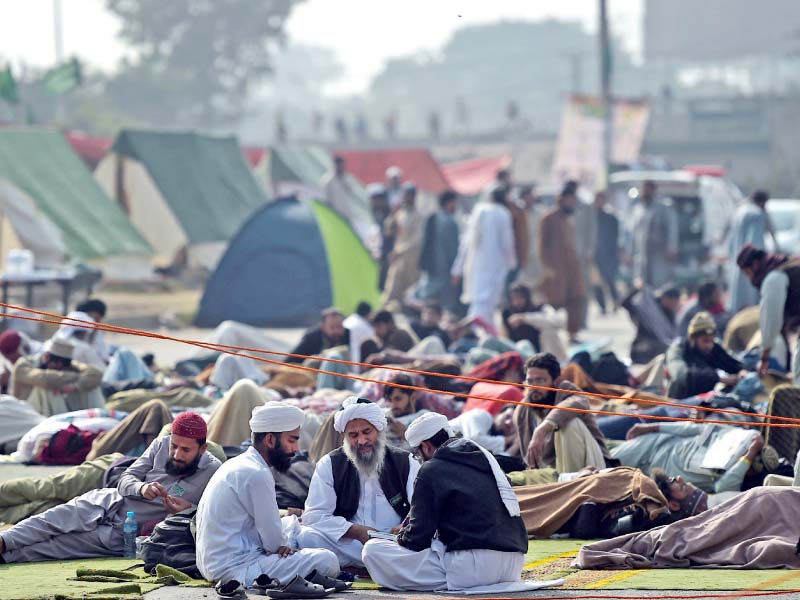 ---
Despite the government's all-out efforts to avert crackdown, the second deadline for protesters in the federal capital to call off their 13-day-long sit-in has ended with authorities to start contemplating the next line action.

On Saturday night, the leaderships of the protesters and the ruling Pakistan Muslim League-Nawaz (PML-N) held a meeting but the deadlock between the two parties remained unresolved.

The protesters are demanding resignation from Law Minister Zahid Hamid over allegedly amending the Khatm-e-Nabuwat clause in the Election Act 2017.

On Friday, the district authorities had told the protesters to end their demonstrator before midnight or face a crackdown. The 'last warning' had been issued on the directives of the Islamabad High Court (IHC) which earlier in the day ordered the district administration to clear Faizabad of protesters by 10am Saturday.

Last-ditch effort averts crackdown on Islamabad protesters

However, the government on Saturday directed the authorities to postpone their operation for 24 hours as it made the last-gasp efforts to resolve the issue for the first time through direct talks with the demonstrators whose sit-in at the junction of Islamabad and Rawalpindi, called Faizabad Interchange

Sources said disqualified prime minister Nawaz Sharif and Punjab Chief Minister Shehbaz Sharif were earlier in favour of taking action against anyone responsible for landing the government in embarrassment with the unwarranted change in Khatm-e-Nabuwwat avowal.

However, senior PML-N functionaries advised Sharifs to exercise caution as the matter was already settled and any further action would reignite the issue.

On Thursday, the National Assembly had unanimously passed 'The Election (Amendment) Elections Bill 2017', seeking restoration of the Khatm-e-Nabuwat [finality of Prophet-hood] clause to its original form.
COMMENTS (1)
Comments are moderated and generally will be posted if they are on-topic and not abusive.
For more information, please see our Comments FAQ