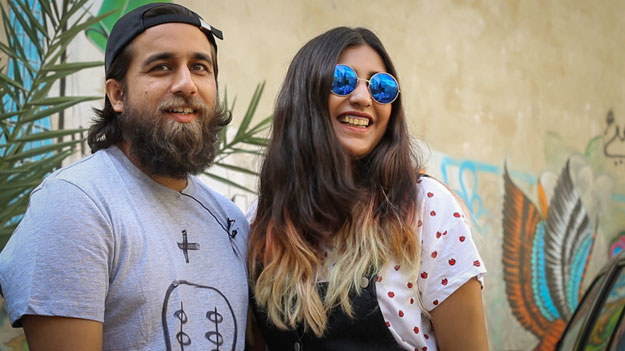 ---
KARACHI: [fbvideo link="https://www.facebook.com/ETLifeandStyle/videos/1574027889351122/?q=express%20tribune%20life%20%26%20style"][/fbvideo]

Two young artists from Karachi have taken it upon themselves to daub the city with a splash of colour, hoping to initiate conversation about the reclaiming of public spaces.

Newlyweds Marium Kamal and Safwan Subzwari would often wonder why the plethora of dilapidated sidewalks and gray walls in Karachi could not be transformed into something more pleasing to the eyes. However, when they approached the residents and asked if they could add some colour to their localities, the response they received was not very heartening.




Nonetheless, the determined duo decided to seize their rights and drive around Karachi with bottles of spray paint, bringing public spaces to life with their art. "We really wanted to just start a conversation about the city, its people and about art itself," Kamal told The Express Tribune. "Ever since we began doing this, we have been receiving a much more positive response from everyone who comes across it," Subzwari added.

Kamal and Subzwari are no strangers to art. Kamal is a graduate of Fine Arts from the Indus Valley School of Art and Architecture (IVS) while the latter studied film at Columbia College in Los Angeles. Their passion for art is what drives them, as they strongly believe it is a vehicle to promote change and go against 'the system.'




Painting Peshawar in 'The Golden Light'

The main goal is to brighten up the mood of Karachiites. Subzwari said that if a passerby spotted a blue or yellow somewhere and that evoked some kind of feeling within them, then that is good enough. "We want to take back public spaces because they belong to people at the end of the day. Our creative process is simple: we grab cans of spray paint and head out in our car to find random spots to paint." The budding artists also plan to work with stencils, colours and different symbols in the future.




Bringing out the colours of underprivileged Pakistan, one stroke at a time

Owing to the discrete nature of their work, no local authorities have been a stumbling block in the couple's endeavor. In any case, street artists generally believe public spaces belong to the public, and it is their right to adorn these as they please.




But Zarmeene Shah, a writer and curator based in Karachi, says that graffiti is often viewed as inherently political due to its anti-institutional nature. "Pakistan, like most countries, has a history of what one might call organic graffiti, which is largely text based and straddles the realms of politics and economics, i.e. slogans, political expressions, advertisements, and so on, " she explained. "While these may not be considered aesthetically pleasing, they are most certainly expressions of the public onto (physical) public space."






"Where public space is laid claim to by a myriad of complex publics, 'reclamation' becomes a complicated and problematic term, raising critical questions of the rights to the space and the city itself, its ownership, its coopting, and thus, the need for its reclaiming. Who is reclaiming this space and from whom?"

Have something to add to the story? Share it in the comments below. 
COMMENTS (2)
Comments are moderated and generally will be posted if they are on-topic and not abusive.
For more information, please see our Comments FAQ