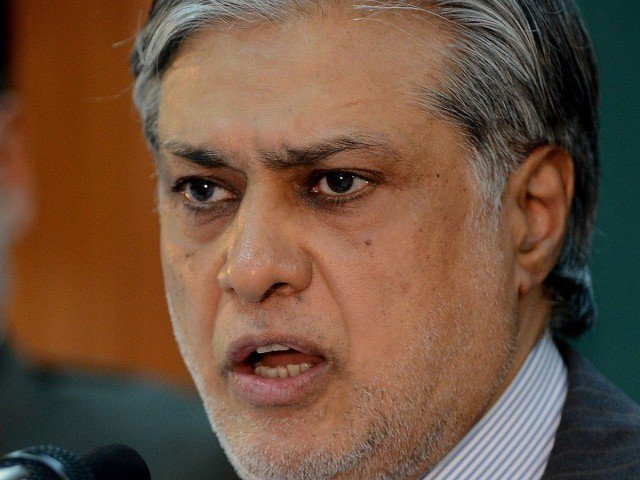 ---
ISLAMABAD: The National Accountability Bureau (NAB) has recommended placing the name of Finance Minister Ishaq Dar on the no-fly list.

The development came shortly after an accountability court on Thursday released its three-page detailed order, issuing Dar's non-bailable arrest warrants while rejecting his plea seeking exemption from personal appearance on medical grounds over a pending corruption reference.

"After issuance of non-bailable warrant of arrest against Ishaq Dar, NAB has recommended the Ministry of Interior (MoI) to place his name on the ECL," read a statement issued by the accountability watchdog.

Accountability court confirms freezing Ishaq Dar's assets

The finance minister is already in London where he, according to his counsel, is getting treatment for ischemic heart disease.

Dar's counsel had sought his exemption from personal appearance before the court for a period of three to six weeks contending that "much time is required by the doctors to give a final advice about Dar's medical condition". However, in its short order, the court on Tuesday rejected the request and issued Dar's non-bailable warrant.

The written order issued on Thursday said: "The defense counsel has contended that vein of the heart of the accused is ruptured and he is admitted to a hospital but no such report has been annexed with the application for exemption from court's proceedings."

NAB to explain why Sharjeel Memon's name should stay on ECL

"Two medico legal reports are submitted. The last one is issued by Dr Ranjit Deshpande, consultant cardiothoracic surgeon, on November 6. The report is procured by the accused from an Indian doctor. Previously, medico legal report was issued by Dr Christopher Baker," the order added.

"It shows that two different medical reports of two different doctors are produced without any medical report about the latest position of the accused. Therefore, the application submitted for exemption of accused from personal appearance is not entertainable," the court order read, adding that the accused was not appearing before the court 'deliberately'.

The court also directed Dar's guarantor, Ali Ahmad Quddusi, to ensure presence of the accused on the next hearing, November 21, otherwise his surety bond would be forfeited in favour of the state.

On October 27, Dar flew to Tajikistan on special aircraft of the prime minister for a one-day official trip to attend a conference. However, later he changed his plans, extended his stay and flew to the UK where his health condition reportedly deteriorated.

Court summons Dar, surety-giver on 14th

An accountability court has been hearing a corruption reference against him for accumulating wealth beyond known sources of income. Dar has skipped last three hearings of the case, which was filed in view of the Supreme Court's July 28 verdict in Panamagate case.

This reference is one of the four references that apex court ordered NAB to file respectively against former premier minister Nawaz Sharif, his three children, son-in-law and Dar.

On November 2, the accountability court had ordered a freeze on all the domestic assets, properties, bank accounts and investments owned by Dar and his family members.
COMMENTS (2)
Comments are moderated and generally will be posted if they are on-topic and not abusive.
For more information, please see our Comments FAQ