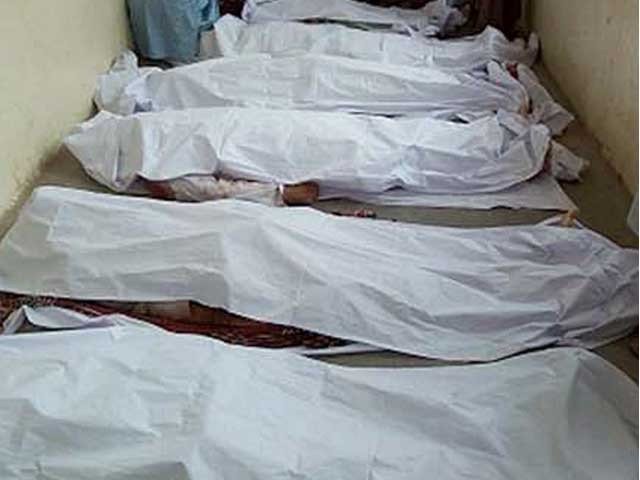 ---
TURBAT: Bullet-riddled bodies of at least 15 men were found by the Levies from Buleda area of Kech district near the Pakistan-Iran border of Gurok.

The banned Baloch Liberation Front (BLF), headed by Allah Nazar Baloch, has claimed responsibility for the killings of the 15 men from Punjab, supposedly aspiring to enter Europe illegally.

The mountainous region of Buleda is 600 kilometres south of Quetta. From here the human traffickers compel people to sneak into Iran in bid to enter Europe illegally.

"Armed men had kidnapped these men near the Iranian border and shot them near Goruk," said DC Kech Darmon Bhawani.

Rescue workers and personnel of law-enforcement agencies later shifted the bodies to District Headquarters Hospital Turbat for autopsies.

Commissioner of Mekran Division Bashir Ahmad Bangalzai said that documents and other items found on the bodies suggested that they were illegally trying to cross into Iran. It was not clear what prompted the killings, he said.

Bangalzai said all 15 men were from Punjab. "We are contacting their families," he said.

Three labourers killed in Turbat targeted attack

Spokesman for the Balochistan government Anwarul Haq Kakar said that human traffickers mostly travel at night to escape detection by border security forces. "These men were picked up by armed men, who later killed them in the mountainous area."

Kakar added that terrorists were looking for soft targets.

The deceased were identified as Mohammad Hussain from Wah Cant; Zulfiqar, Azhar Waqas and Khurram Shehzad from Mandi Bahuddin; Ghulam Rabbani and Ahsan Raza from Gujranwala; Zafraan Zahid, Mohammad Ilyas, Abdul Ghafoor and Tayab from Sialkot; and Saifullah from Gujrat.

Four bodies could not be identified till the filing of this report.

Human smuggling is a huge business in Pakistan and other South Asian countries.