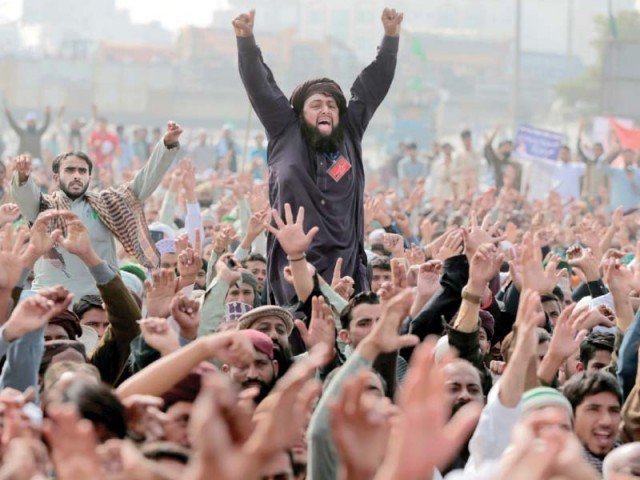 ---
ISLAMABAD: Three policemen were injured on Tuesday in a clash with Tehreek-e-Labbaik (TLY) protesters, who continue to block the crucial Faizabad Interchange - which connects Islamabad with Rawalpindi - for the seventh consecutive day.

Roughly 2,000 protesters are demanding the resignation of Law Minister Zahid Hamid over an amendment to the Prophethood Declaration Clause in the Electoral Reforms Bill 2017.

The I-9 station house officer and two other policemen were injured in the clash, Express News reported.

According to Reuters, the police have arrested dozens of protesters.

The Islamabad police chief said the protesters were deliberately trying to escalate tensions so that a clash with police would become inevitable.

Commuters miserable as Faizabad remains blocked

The protesters said they would defend themselves if the police conducted an operation against them.

Khadim Hussain Rizvi and other TLY leaders reportedly told the protesters to put up resistance to the police, signalling that they would continue to defy orders to clear the interchange.

A spokesman for the Punjab provincial government, Malik
Muhammad Ahmed Khan, told Reuters that the protests were a "serious inconvenience for people and disturbing public life" in the
province that surrounds Islamabad. "The Punjab government has detained dozens of TLY activists from various districts," he said.

Interior Minister Ahsan Iqbal urged the protesters on Monday night to call off the sit-in, saying he hoped the government "wouldn't be forced to take extreme steps". One security source said the protesters detained several policemen, seized their weapons and mistreated them. "The abduction of the police is a heinous crime," Iqbal said
in a statement. Police have accused the protesters of throwing stones at them.

Thousands of people use the interchange to commute every day to work in the capital. Last week, an eight-month-old child died on his way to the hospital after being stuck in traffic because the TLY's blockade.

The protesters have erected tents on the greenbelt and deputed their own 'security' personnel who frisk pedestrians and motorbike riders.

They have also been controlling traffic for hundreds of meters around their protest camp, parking buses at several locations on Islamabad Highway and removing nearby police check posts.

As a result, all major roads including Seventh Avenue on Kashmir Highway, Islamabad Expressway, Murree Road and IJP Principal Road have been completely closed for traffic. Due to diversions, the alternative roads are also clogged including Kashmir Highway, Club Road, Taramri Chowk and other arteries.
COMMENTS
Comments are moderated and generally will be posted if they are on-topic and not abusive.
For more information, please see our Comments FAQ