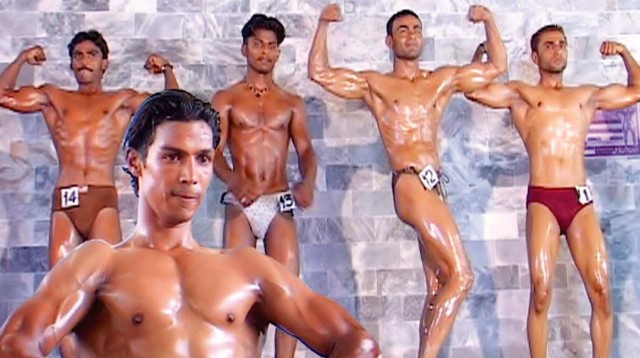 ---
KARACHI: Sunday was the day to be in Hyderabad where 40 men, slick with oil despite the heat, got up on stage and put on their best faces... correction, bodies.

This was the Mr Hyderabad competition and hundreds of people turned up at the Mehran Arts Council to see who would take home the trophy. The judges decided that the Divisional Bodybuilding Champion 2010 was Muhammad Ali Qureshi, who was crowned Mr Hyderabad and Mr Hyderabad Junior went to Muhammad Shahid. The president of the Divisional Hyderabad Bodybuilding Promotion Association, Asad Hussain Asadi, told The Express Tribune that the 40 participants came from all walks of life and hailed from the four districts of the city.

They participated in the competition through their memberships of different gyms in Hyderabad. Initially in the contest, the weight and height of all the contestants are checked and they are categorised into different groups. After that, two people with the best muscularity are selected from each group. The panel of judges then nominate the winners from the chosen eight. There are two titles to be won: Mr Hyderabad Senior, the winner who is over 20 years old, and Mr Hyderabad Junior, the under-20 champion.

This year's Mr Hyderabad Senior, the 24-year-old Muhammad Ali Qureshi, has been training since he was 16 years old. "I follow no particular diet pattern. But I work out for at least one hour every day," he said. About any objection from his family members, Qureshi said that he had his family's full support as they all believe in the importance of fitness. Apart from bodybuilding, he spends the day at his gur (raw sugar) shop in Hyderabad. About his plans, he said he is training to compete for the Mr Sindh, Mr Pakistan and Mr Asia contests and is determined to win the trophies.

About the potential in Hyderabad for these fitness events, Asadi said there was talent but a severe shortage of funds. "We could not afford to give the winners any cash prize. The association could just get trophies made for the winners," he said, adding that the association has no funding or any kind of other support from the government. "We are mostly supported by the Karachi Bodybuilding Promotion Association, while some former winners and other fitness enthusiasts donate some money," he said. On what the association will do next for the winners and the potential winners, Asadi said they are preparing for the Mr Sindh competition due next year.

Published in the Express Tribune, May 24th, 2010.