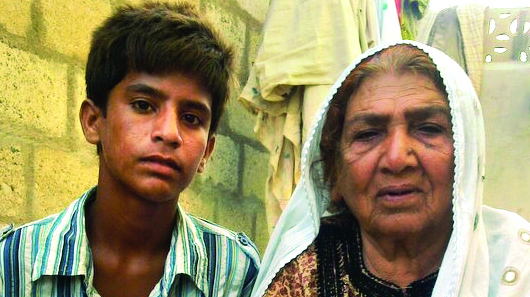 ---
KARACHI: "My heart starts to explode every time I hear my son's voice on the phone," says Saaed Mohammad Hakim Daad's old and inconsolable mother, who has been waiting for her son's return from a Yemeni jail for the last five years.

According to family members, Saeed was apprehended by Yemeni authorities when his fishing boat strayed from Pakistani waters and started sinking after an accident occurred. "Saeed and his crew of nine other Pakistani fishermen had no option but to swim to the nearest land, which unfortunately happened to be Yemen," says Saeed's brother Qasim. Saeed was about 35 years old when he jailed in 2006. "No one from the government has done anything to bring him back," Qasim says, adding that the last time the family spoke to Saeed, he said the Yemeni jail authorities were demanding Rs2,000,000 to release him. "But we are poor … how can we arrange that kind of money," Qasim asks.

The family sold their only fishing boat for a few thousand rupees a year after Saeed was jailed, all of which has run out. "It feels like he's been away for decades now and we long to look at his face," Saeed's wife Farida cries. She is a mother of five children, the youngest of whom is about eight years old and the oldest 16. Meanwhile, Saeed is the youngest of his nine brothers and sisters. The family lives near the city's shoreline in a small hut in a fishermen colony called Abdur Rehman Goth.

The colony has a population of about three thousand people who live in 400 houses. "He was the breadwinner of his family and without him we have become beggars," Farida says, adding that she and her children have to ask for food every day. Saeed's brothers say they try their best to support Farida and her children in every way possible, but "we have our own children to feed and it's never enough." Ten-year-old malnourished looking Obaid believes his father is still at sea and will soon return home to end all their worries. "When I spoke with him over the phone, my father said to me that I was his only friend in the entire world," smiled Obaid. Family members say that Saeed is ill and has been contemplating suicide. "He has big rashes all over his body," his eldest daughter Bakhtwar says, adding that his father is not being provided with proper food, clothing or medical care in jail.

Seventy Pakistanis are imprisoned in Yemen and most of them are fishermen, says Dr Khawaja Kamal, Pakistan's ambassador to the country. "The judicial system in Yemen is weak and most inmates are held on the pretext of drug trafficking," informs Khawaja. Drug trafficking is punishable by death in Yemen. About two weeks ago, 13 more Pakistani and 17 Iranian fishermen were arrested by Yemeni authorities. "These 13 Pakistanis, fortunately, haven't been charged with drug-related offences because their case was getting highlighted in the media. Thus they have a better chance of being released soon," Khawaja says.

Foreign Office spokesperson Abdul Basit says that the government will do everything it can to bring its citizens back home. Basit adds that an amount of $20,000 has already been released to the Yemeni consulate to fight the cases of jailed Pakistanis. Kamal confirmed that the money has been released and was being used to pay the legal fees of lawyers engaged by the embassy. When asked about Saaed's case, the ambassador informed that he has been charged with the crime of drug trafficking. "Currently Saeed's appeal is pending before the country's Supreme Court and the Pakistan embassy's lawyer Mohammad Taqi is pleading the case."

Kamal added that it was possible that Yemeni jail authorities were asking for bribes from the family and said that he would look into the family's claims. Pakistan FisherFolk Forum chairman Mohammad Ali Shah, says the government has always ignored people jailed in Yemen. "They tend to focus their energies on fishermen held in India instead of also making efforts to release their nationals in Yemen and Somalia," he said. Commenting on why fishermen don't stay close to Pakistan's territorial waters, Shah says that "the stock of fish in our seas has depleted because of marine pollution and therefore fishermen are being forced to venture out further in to the sea to earn a livelihood."

He added that the population of fishermen community has also increased exponentially over the years. "Take the fishing community of Ibrahim Hyderi as an example. Around 20 years ago the population there was just 10,000, but now over a 100,000 live there and all earn their livelihood through fishing," Shah says, adding that the government should make efforts to create alternative employment opportunities for people. An estimated four million people are involved in the fisheries industry in Pakistan, which is considered a profitable business, with yearly exports, according to one estimate, amounting to around 150 million dollars.

According to the Ministry of Overseas Pakistanis, around 6,431 Pakistanis are in jails in 72 countries. Of these 1,228 are in the UAE, 1,152 in Saudi Arabia and 712 in India. Out of these, 5,122 are convicted while 1,200 are under-trial prisoners. The Supreme Court of Pakistan on May 13 ordered the government to constitute a four-member committee for the repatriation of Pakistanis jailed abroad.

The following day the cell, headed by Additional Secretary Hassan Javed of the Foreign Office was set up. It is supposed to work in collaboration with the Interior Ministry while the Finance Ministry has assured financial support to meet legal expenses. According to the cell, all Pakistani missions abroad have been informed about its formation which is also supposed to remain in contact with the families of those in jail.

Published in the Express Tribune, May 24th,  2010.
COMMENTS (3)
Comments are moderated and generally will be posted if they are on-topic and not abusive.
For more information, please see our Comments FAQ