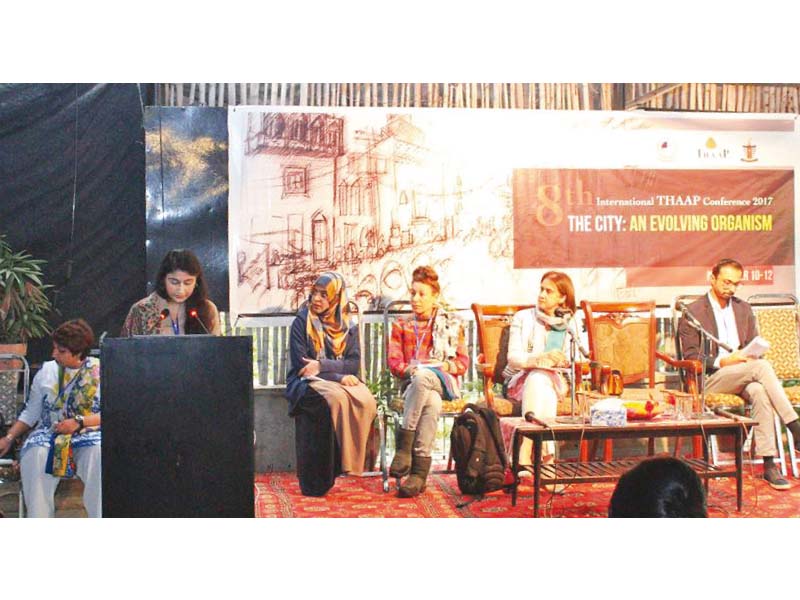 ---
LAHORE: The three-day Eighth International Trust for History, Art and Architecture of Pakistan (THAAP) conference kicked off on Friday.

The over-arching theme of the conference – the city as an evolving organism – is to explore how urban centres grow and unfold through a process that might be called the 'Interaction of the Social and Built Environment (ISBE)'.

As many as 24 papers will be presented by researchers, policymakers, scientists, urban science experts and students at the event, which is being organised in collaboration with the Government College University.

Participants looked into the questions such as people's understanding of cities and furthering the dawn of new urban centres.

According to the researchers, cities are a physical and a cultural event. "People construct cities, and the city, in turn, influences and modulates their living."

The participants were of the view that tolerance, civil behaviour, respect for others are the keys to the new code as a city is simply not about building and rebuilding an infrastructure anymore. The future lies in a compassionate and a humane city with reduced inequities of power and wealth.

The first paper of the session, titled Appeasing Cities: Female Consciousness in Three Pakistani Poets by Dr Nadia Anjum from Kinnaird College for Women, explored the role of women in society and the importance of poetry in reclaiming lost identities.

The second paper of the session was presented by Nida Mansoor, head of the department of Aitchison College-Middle School. The paper titled Bazaar - A Living Museum: Bazaar as an Open Educational Resource explained about the effectiveness of the bazaar as an educational resource.

Mahrukh Bajwa of the National College of Arts Lahore presented a paper analysing the folk tradition of puppetry (Putli Tamasha) in Punjab as a form of storytelling in the context of urbanisation. The paper was about the dying puppetry tradition in the context of preserving oral history traditions.

Sami Chohan from Karachi presented a paper on Architects as Urbanists: Keeping the City First. It is about the role of architects as urbanists and taking charge of the surrounding environment.

The last paper of day one was presented by Dr Michal Glikson from Australia. Her paper titled Visionary Ecologies: Stories of Gleaning in Brisbane and Lahore outlined the importance of cleaners in Lahore and the management of waste.

The THAAP, established in 2006, is a forum where multi-disciplinary discourses take place for academics and professionals who are dedicated to improving the state of education, particularly in the fields of art and culture.

Published in The Express Tribune, November 11th, 2017.
COMMENTS
Comments are moderated and generally will be posted if they are on-topic and not abusive.
For more information, please see our Comments FAQ