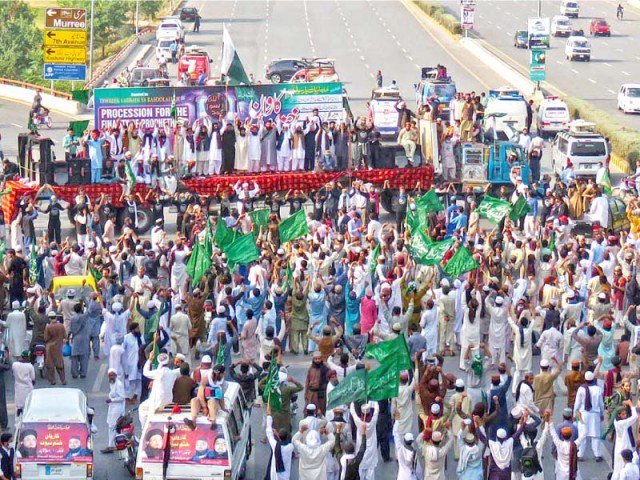 ---
ISLAMABAD: With roadblocks costing the life of a toddler in the capital, the National Commission on Human Rights on Thursday took suo moto notice over the forced shut down of the twin cities by religious protesters.

The commission has subsequently has summoned the secretary of the Interior Ministry, Inspector General of Islamabad Police, Islamabad Chief Commissioner on November 22, seeking explanation on the issue.

According to NCHR officials, the commission had expressed serious reservations over poor administration by city administration which led to the occupation and forced shut-down of Islamabad and Rawalpindi, spreading fear, chaos and panic among its residents.

The move came after a sit-in by Labaik Pakistan Tehreek workers on Faizabad — which is one of the major roads which connect Islamabad with Rawalpindi — caused a massive traffic jam leaving commuters stranded on the roads for hours.

The sit-in started on Wednesday afternoon and continued on Thursday.

The commission — which held the city administration responsible for forcing people to wait in long queues and leading to air pollution and risking lives of people who may not be well — has dubbed the blockage as a human rights violation.

"Mal-administration is rampant and prima-facie the administrations of the twin cities seem to be totally oblivious to public complaints. As this constitutes a human rights violation in many ways, the commission is taking suo-moto notice after having observed the grave situation in the past two days," the NCHR said.

The NCHR further stated that recurring traffic jams and closure of roads without any planning was fast becoming a regular feature for commuters travelling between Islamabad and Rawalpindi.

The Metro Bus service too was suspended with no alternate arrangements or diversions in place.

Published in The Express Tribune, November 10th, 2017.
COMMENTS
Comments are moderated and generally will be posted if they are on-topic and not abusive.
For more information, please see our Comments FAQ