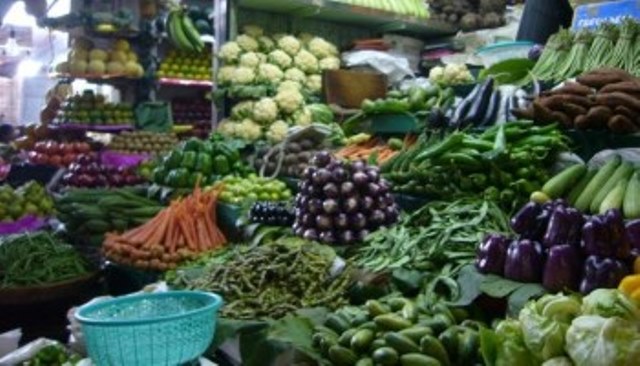 ---
KARACHI: Unequal supply and demand of commodities has led to an increase in their prices. For the past few months, citizens have been forced to buy vegetables at higher rates.

The government's failure to keep a check on the surge of prices continues to affect citizens. Since September, vegetables, that were once economical, have become unaffordable for many. The prices have been raised by up to 400%, from their actual price between Rs30 and Rs40 per kilogrammme for tomatoes and onions.

Skyrocketing vegetable prices leave citizens empty-handed

According to the price list issued by the office of controller general (Karachi commissioner), grade I tomatoes are to be sold for Rs128 per kilogramme, whereas, grade II for Rs108. Large sized onions are to be sold for Rs86 per kilogrammme and small sized for Rs64 but consumers are now forced to buy commodities at higher prices.

Tomatoes are being sold at Rs160 per kilogramme once again, while onions are being sold at Rs100. A housewife, who was buying vegetables from a vendor in New Delhi Colony, Clifton, could buy just half a kilogramme of tomatoes after finding out the price. "The price of tomatoes should be between Rs30 and Rs40 since they are locally produced and not imported," she said.

Toxic chemicals lace fruits, vegetables

"Selling vegetables at low prices work in our favour as we get a chance to sell more," said a vegetable vendor in Saddar. He added that people resort to buying vegetables in lesser quantities if prices are high which results in a loss for vendors. "In such situations, we do not buy such vegetables in order to avoid incurring losses," he said.

"Lack of planning and irrelevant policies lead to inflated situations like this," said Abdul Ghaffar, an elderly, who was buying the vegetables from Saddar. He added that the government should come up with a mechanism so people can be relieved from buying expensive food items.

Vegetable prices rise suddenly in Abbottabad

"Monsoon rains damaged the local crop of tomatoes and onions," the Sindh Assembly session was informed. According to the answer submitted to the assembly, the import of vegetables raised the cost of the commodity and the prices were likely to decrease once supply is received from upper Sindh. But Karachi division Market Committee Vice Chairperson Asif Ahmed said the situation would not improve before January till the crop is harvested in upper Sindh and Balochistan at the end of December.

"The farmers have cultivated tomatoes and onions on less than 50% for not getting the right prices for the past three years," Ahmed told The Express Tribune. According to him, the crop was sold between Rs6 and Rs8 per kilogramme in a wholesale market. "This discouraged farmers over the years to grow both the commodities, resulting in heavy shortage," he said.

Bare necessities: Vegetable rates through the roof yet again

Pakistan Tehreek-e-Insaf MPA Khurrum Sher Zaman wanted to bring an adjournment motion on the price hike of everyday commodities in the Sindh Assembly on Tuesday but it was declared against the rules by the deputy speaker. Zaman requested that citizens' consumer rights are not being taken care of by the assembly.

'Tomato prices to come down soon'

"We know that the price hike is an issue of every household and the federal government should be held responsible as they also raised the prices of fuel," said parliamentary minister and Pakistan Peoples Party leader Nisar Khuhro. The provincial departments are working to control prices across the province, he added.