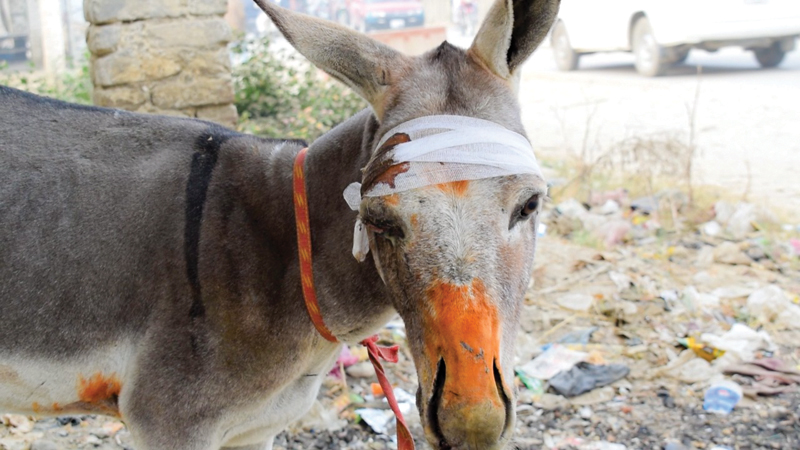 ---
SHABQADAR: A donkey is being held by the police in Charsadda over its involvement in a deadly road accident.

Investigation Officer Muzaffar Khan of the Shabqadar police told The Express Tribune that on October 29, a woman identified as Shah Fazal was killed when a donkey cart collided with a Qingqi. After the accident, Qingqi driver Nadeem Khan brought the body of the elderly victim to a hospital.

Donkey meat in Lahore, hides in Karachi

In the meantime, donkey cart operator Ikram Khan fled the spot, leaving his injured donkey and damaged cart behind.

The police have declared the donkey, the cart, and the Qingqi as case property and took them into custody.

Muzaffar added that Qingqi driver Nadeem has been sent to jail, while the donkey and other case property are being kept at the Aranda police post.




The donkey suffered injuries to its head and eye in the incident and was tied up by the roadside along the Shabqadar-Michni road. Although hungry and injured, the police have showed little concern for the donkey until passersby took pictures and video of the weakened beast.

The images went viral on social media. However, the donkey was still standing by the roadside on Sunday morning despite the fact that is evidence in the case, and locals have been asking the police to hand it over to someone who can at least care for it.

A police official, who did not want to be named since he was not authorized to speak to the media, said that without the court's permission, the police cannot legally transfer custody of case property, especially when the main accused – its owner Ikram – is an absconder. He was also upset over the debate surrounding the handling of the animal on social media, reiterating that the police "cannot just give away the donkey" to receive better care.

Donkeys and sharks dominate assembly session

On the other hand, accused Qingqi driver Nadeem's brother Dawood Khan told The Express Tribune that his brother had helped take the injured woman to hospital after the accident, while the donkey cart driver had fled, yet the police booked him and held his Qingqi — a key source of income for his family — as case property.

Shabqadar police records show that over the past 45 days, at least 10 people have been killed and 30 other have been injured in rickshaw, Qingqi and motorbike accidents. However, officials believe that this figure does not reflect the total number of incidents since several cases have not been reported to the police.

A police official added that thousands of unregistered rickshaws and Qingqis are plying the streets of Shabqadar. To make matters worse, he added that most of these vehicles are being driven by teenagers whose irresponsible driving have been causing accidents in the district and endangering lives of commuters.

Published in The Express Tribune, November 6th, 2017.