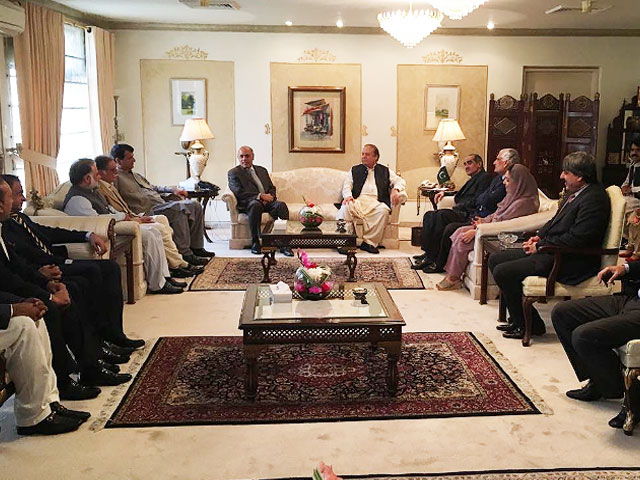 ---
Former prime minister Nawaz Sharif has said his party will not take dictation on the 'minus formula', Express News reported.

"We didn't choose the policy of conflict but were then dragged into a conflict. However, we will not take any dictation on the minus formula now," he said during a party meeting at the Punjab House after he flew back from London.

The ousted prime minister advised his party leaders to refrain from giving emotional reactions and told them it was time to take a principled stance.

"If we stand for our principles, no one will be able to break us. The decision party take will have to be followed by every worker including myself," Nawaz said.

Nawaz Sharif leaves for London to meet ailing wife

The high-level meeting of Pakistan Muslims League-Nawaz (PML-N) was attended by Interior Minister Ahsan Iqbal, Chaudhry Jaffar Iqbal and many other leaders of the party.

Earlier during the day, Nawaz reached Islamabad from London when he was received by Khawaja Saad Rafique, Mushahidullah Khan, Pervez Rashid, Asif Kirmani and many others.

The former premier has to appear before the accountability court in a NAB reference case filed against him, his daughter and son-in-law. The court had earlier issued non-bailable warrant against Nawaz for having failed to appear in two hearings.
COMMENTS (1)
Comments are moderated and generally will be posted if they are on-topic and not abusive.
For more information, please see our Comments FAQ