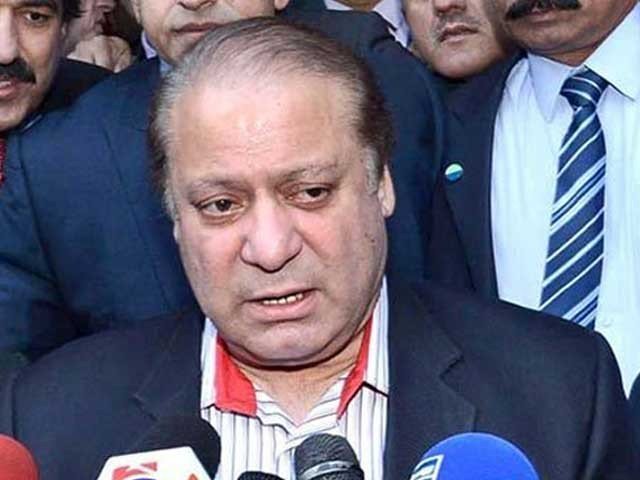 ---
ISLAMABAD: The top leadership of the Pakistan Muslim League-Nawaz (PML) on Monday rejected a 'minus-Nawaz' formula for the party and warned they would not accept any unconstitutional step in the country.

Former prime minister Nawaz Sharif said that there was no divisions in the party and they he would return to Pakistan this week to appear before an accountability court hearing three National Accountability Bureau (NAB) references against him and his children.

Sharif held critical discussions with the top party leadership in London on numerous thorny issues that present serious challenges facing the ruling camp. After a lengthy meeting, Sharif decided to appear before accountability court on November 3.

According to a media report, it was decided in the meeting that any minus-Nawaz would not be accepted. The party also opposed any supra constitutional step.

Prime Minister Shahid Khaqan Abbasi, Punjab Chief Minister Shehbaz Sharif, Foreign Minister Khawaja Asif, and Finance Minister Ishaq Dar were all in London to meet the former prime minister. Abbasi was scheduled to leave London for Pakistan on Monday night.

Interestingly, the PML-N leaders landed in the British capital on different pretexts. Abbasi left Islamabad on Sunday, citing 'personal' engagements. Shehbaz flew from Lahore to 'see his sister-in-law, Kulsoom Nawaz'. Dar went to in London for 'medical treatment', and Sharif went from Jeddah to attend his ailing wife.

Sources said that Monday's talks aimed at ironing out internal party differences and evaluating legal options for Sharif regarding the trial at the accountability court. They added that Dar was part of the parleys but was kept out of the consultation process.

NAB's references against Sharifs riddled with gaffes

According to a report, Sharif also held a separate meeting with Abbasi in the office of Hussain Nawaz, which was also attended by Shehbaz. The PML-N chief later told reporters he would return to Pakistan on November 2 to attend the accountability court hearing on November 3. He said neither there was any rift in the party nor any minus-Nawaz formula.

He also took another jibe at his disqualification by the Supreme Court in the Panama Papers case, complaining that he did not get a fair trial. "What kind of stability, what kind of progress can be expected when an elected PM is disqualified in Panama [Papers case] in the name of Iqama," Sharif asked.

Sharif claimed credit for economic progress of the country, bringing international cricket to Pakistan, and reducing load-shedding. "Our government has done a lot for the country, but when the government is weakened, the country weakens."

In his talks, Abbasi confirmed Sharif would appear before accountability court on November 3. When asked about reports of attempts to create divisions in the party and elevate Shehbaz Sharif as the PML-N president, the prime minister retorted, "Why don't you tell me who wants to do that?"

Abbasi said the Sharif deserved a fair trial in court. "How fair is this trial? You can see for yourself." Shehbaz Sharif, who was also present, endorsed Abbasi's statement, saying that Sharif deserved a fair trial.

Nawaz fears coming back after seeing how Sharjeel was treated: Aitzaz

Sources told The Express Tribune that the London meetings took place at Abbasi's behest – part of his attempts to mediate between the Sharif brothers. They denied that Sharif had summoned party leaders to London because he was not inclined to meet his younger brother anytime soon.

The PML-N chief changed his mind at the insistence of Abbasi, the sources added. The prime minister visited Lahore last week and met Shehbaz to convince him to fly to London and mend fences with his elder brother after it became clear that Sharif would not be returning to Pakistan on any set schedule.

Other issues reportedly discussed in London included legal options for the Sharif to avoid conviction in the accountability court references and the change in Khatm-e-Nabuwwat clause in the previous draft of the Election Bill 2017.