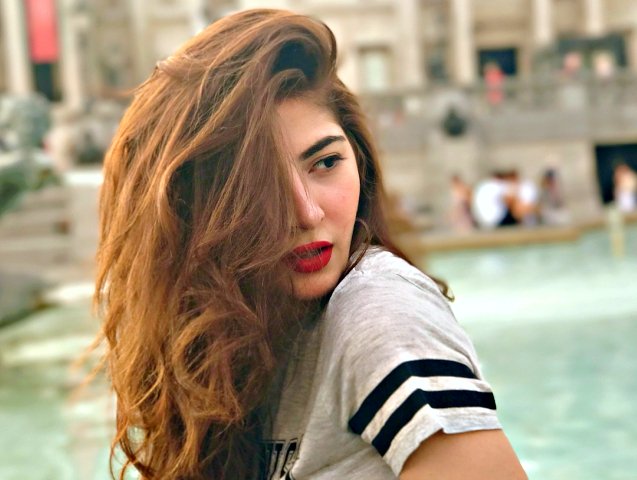 ---
DUBAI: Born to a Persian mother and Pakhtun father, Naimal Khawar never thought she'd become an actor. She grew up in Islamabad and was studying visual arts before Verna came along.

Written and directed by Shoaib Mansoor, the upcoming thriller appears to be the powerful story of a woman's quest for justice wherein Naimal stars as the second female lead, with the lead role played by none other than Mahira Khan. Verna will be her debut film and many are calling it a dream debut. How does she feel about that? The Express Tribune finds out.

ET: How did 'Verna' come about? How did you land the role? 

It was all quite surreal. I got a call from Shahbaz Shigri, the assistant director, as he had seen my photos on Instagram. The team invited me over to read a few lines and it was so strange! So, so weird!




After that, when they offered me the role, I still didn't quite understand what was happening. And when I brought it up with my family, they were a little weirded out too because when you think of the word 'film' you think of all kinds of negative things. But I told them that this one was based on social issues and was being made for a good cause so they eventually said okay. I honestly never thought I'd be an actress… Never.

ET: Do you enjoy acting now? Everything happened very fast for you but has the experience worthwhile?

I don't know if I can say I enjoy it. People say it's very easy and something that just happens. But when I did it…waking up at 7 am, being away from family, coming back home at three in the morning…. But yeah, I did enjoy it.

Verna's latest song, 'Khushi Ki Baat' echoes heartbreak and betrayal

ET: 'Verna' wasn't an easy film to shoot, was it?

I used to wake up at 7 am for shooting. I haven't even woken up for my college at 7 am! Makeup, wardrobe, etc…it would all go on till 3 am. There were some shots in winter which were physically challenging. But I've learnt so much from everyone one the sets! It was tough but a good learning experience for sure.

ET: What was it like acting with Mahira Khan?

I was so scared! They're such big names... Mahira and Shoaib. And I'd even heard Haroon's songs. But when I started working, Mahira helped me get really comfortable. She told me you have to be really comfortable to get into a role. We were newer actors and she was the senior-most. She's a very cool person who made sure everyone was comfortable. We all became like friends and family on set. Mahira really had no airs about her; she wasn't arrogant or anything and took care of everyone.




ET: Shoaib's films are always tough on the nerves in terms of subject matter. What was it like shooting for a film like that? Did your friends and family worry about you?

The good thing was that Shoaib Sahab told us Verna is about the empowerment of women and I was up for that. I have always been very vocal in terms of such issues, through my art or other ways. And I told my family that this is a film that will have this impact and talk about a subject like that. Verna does revolve around Mahira's character and her story but it is about social issues and the taboos that we need to be talk about.

ET: Can you tell us more about your character? Is there anything the audience needs to anchor on to understand your character better?

I can't reveal much obviously but one thing I'd like to make clear, is that I'm not playing Mahira's sister. I'm playing Haroon's sister and people seem to confuse that. My character and my brother (Haroon's character) have been brought up in a very liberal and progressive environment and my character will fight back in small or even big ways, just like today's generation. It's very similar to who I am in real life. I am vocal and I always believe we need to talk about certain things.

4 takeaways from Verna's latest track 'Sambhal Sambhal'

ET: What were some of your favorite moments shooting onset?

Whenever the shot would cut, we would start laughing. Mahira couldn't control her laughter and Haroon would make us laugh. He would also sing for us and Mahira would join in as well. The behind the scenes stuff was my favourite part, I'd say.

ET: Has fame made its way to your world? Do people stop you and want selfies with you? 

We were still on the sets when that started happening. Visitors would want pictures but it was all so new to me. It hasn't hit me as such still and I hope it doesn't.

I do get other offers. I got some recently and called Shoaib Sahab asking what I should do. He said this is just beginning but don't let it get to your head. And I won't because I still have my studies to complete.




ET: What's in store for Naimal in the future?

There are dramas that are coming my way and some films as well. I want to see myself on the screen and I want to see how I do in films before I make a decision about my future. I want to finish my thesis as well before I take on any other projects. People call me and say, "Just give us a date!" and I don't want to do that. I want them to wait.

ET: Have you seen the final cut of the film?

I've seen my parts but I haven't seen the whole film together. Really looking forward to it, though!

Mahira Khan's 'Verna' features a rap song and we couldn't be more pleasantly surprised

ET: What would be your next dream project? 

Shoaib Sahab is a living legend and no one can be bigger than that. And I have been getting lead roles in masala films but at the moment I don't think I'm that sort. I am not ready for that.

ET: What is something you absolutely would not do?

I think I would prefer roles that impact our society, in terms of social issues. I guess I wouldn't ever do an item song or something of the sort.

Have something to add to the story? Share it in the comments below.
COMMENTS (2)
Comments are moderated and generally will be posted if they are on-topic and not abusive.
For more information, please see our Comments FAQ