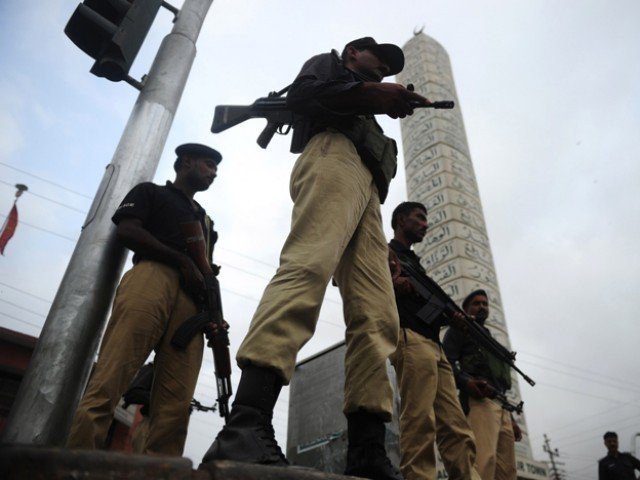 ---
KARACHI: The paramilitary force and Counter-Terrorism Department (CTD) claimed on Sunday to have busted a newly emerged militant group – Ansarul Sharia Pakistan - allegedly involved in over half a dozen cases of terrorism, including the assassination attempt on the leader of the opposition in the Sindh Assembly, Khawaja Izharul Hassan.

Security officials claimed to have killed at least eight militants of the group, including their commander in chief, while four of them are still at large. They said Hassan's attack was a grave conspiracy to discredit the police and other law enforcement agencies.

The eight militants were killed in a joint venture during a four-hour-long intelligence-based operation in Raees Goth, Baldia Town, which began at around 11pm on Saturday night. Two Rangers soldiers and one CTD personnel were also wounded.

The killed terrorists were identified as group chief Sheharyar Warsi alias Abdullah Hashmi, Arsalan Baig, Saad Jamal, Kamran Riaz, Abu Bakar, Talha Ansari, Nihalul Haq and Hassan Haroon while the four absconders as Danish Rasheed, Junaid Rasheed, Abdul Kareem Sarosh Siddiqui and Muzammil. A huge cache of arms, ammunition, explosives, videos, video devices and jihadi material were also recovered, the law enforcers claimed.

'Terror bid foiled': Six militants killed in Karachi raid

This was disclosed during a press conference held by Rangers Colonel Faisal Awan and CTD DIG Amir Farooqui at the Rangers headquarters Sunday evening. The officials also shared footage of the September 3 attack on Hassan. In the footage, Colonel Awan said that one of the attackers could be seen wearing a police uniform while another, Sarosh, wore a white T-shirt, adding that the attacker who wore the police uniform had been killed during an encounter with the police while he was trying to flee after the attack.

DIG Farooqui said that it was a conspiracy to discredit the police, as the militants clad in police uniforms were trying to give an impression that law enforcement agencies were behind the assassination attempt. "As we know that Hassan was once arrested by the police, the attack was a conspiracy to discredit the police and other law enforcement agencies," said DIG Farooqui. "This was the first unsuccessful operation carried out by the militants. There would have been massive damage if they were successful in the operation," he predicted.

Talking about the group, Colonel Awan said that the militants were educated in universities in Karachi and went to Afghanistan to receive militant training. "They were trained at the al Qaeda training camps in Afghanistan. Sheharyar Warsi was the group's chief as well as the spokesperson," he explained. "Ansarul Sharia Pakistan has lost its competence in carrying out the terror plot after our action against them last night," he claimed, adding that though the militants were educated, this does not mean that the varsities or their teachers had any role in their radicalisation.

CTD arrests TTP militant

"I want to clarify that neither any varsity nor any teacher has been involved in such activities. These terrorists were recruited after obtaining their educations," he said. "The group comprised highly educated militants who were ideologically associated with al Qaeda."

He said that after the attack on the Muttahida Qaumi Movement – Pakistan legislator, the Rangers, intelligence agencies and police had started working to trace the group and gather evidence to locate their hideout. He said that Ansarul Sharia Pakistan was a small group of about 12 to 15 members, six to eight of whom are members of its targeted killing team, adding that the remaining members provide backup support and funding.

Colonel Awan said that various sensitive installations, public places, police and Rangers posts, as well as Aladdin Park, were on their future target list.

CTD official sacked for sharing info with political party's militant wing

Colonel Awan said that several suspects were detained during various raids after Hassan's attack but were released after their involvement could not be proven.

DIG Farooqui, however, said raids are under way to find the four absconding terrorists who went underground. "It is confirmed that the absconding terrorists are in Pakistan and apparently in Balochistan," DIG Farooqui explained.

The group has been involved in over half a dozen cases of attacks on high-profile personalities in Karachi. The group, however, came into notice for the first time when they killed four policemen in SITE during Ramazan. Pamphlets left at the site claimed responsibility for the attack.

The group had been active in the city since February, with the killing of police foundation personnel in Gulistan-e-Jauhar and since then they have killed a retired colonel in the Baloch Colony area, three policemen in Bahadurabad, two security guards at the Federal Board of Revenue office, a Traffic DSP in Azizabad and two Police Qaumi Razakars on the Northern Bypass.