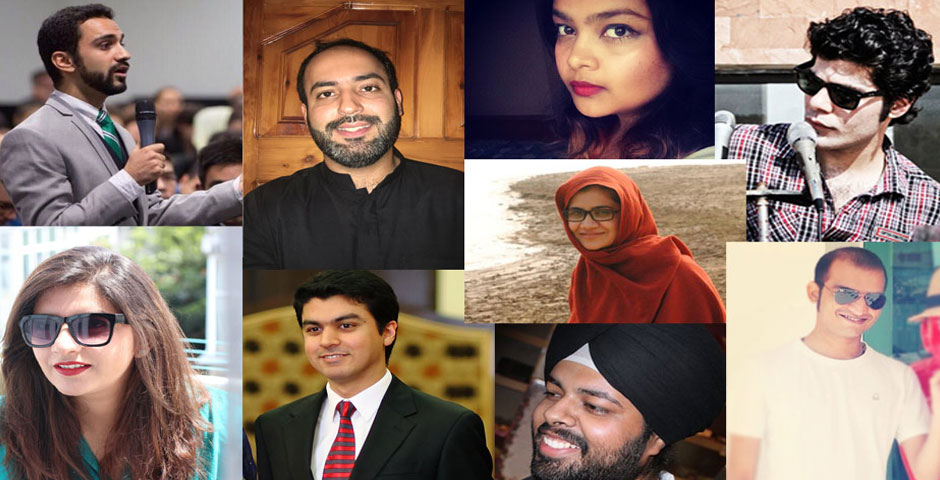 ---
Pakistan and India seem to be in an unhappy, arranged marriage. It was an awkward geographical 'setup'. The founders of the nations envisioned a peaceful future, where they cited the example of US and Canada as friendly neighbours - something they wanted the two young countries at the time to aspire to. Unfortunately, over the years, the relationship became toxic and there was no respite. Each wanted geopolitical hegemony and so they dragged others in, all to no avail.

Nevertheless, there is a familiarity that makes an Indian swoon at Fawad Khan, and a Pakistani at Ranbir Kapoor. A familiarity that leads many to develop lifelong bonds with their peers from across the border, when they attend college abroad, in a new country. This is the reason why some of the Pak-India youngsters who have travelled the world and explored ideas and have a different approach to do away with an old narrative that has been built on hate.

At 70, we are still fighting




Jehangir Jamali

"The causes lie on both sides of the border. The narrative perpetuated by fringe and extremist groups on both sides has been telling us that we are one another's, mortal enemy. And, the fact that we have fought multiple wars does not help the cause either.

Can India destroy Pakistan's nuclear arsenal?

I think a large part of the problem lies with the fact that India has been posed as an existential threat to Pakistan by the state. In my opinion, since democracy has been derailed in Pakistan from the start, this narrative was necessary to justify the increasing power of the Pakistani military. If there is no threat to our existence then why would we need to spend too much on defence? While I do not think the Indian military holds as much sway over the narrative in India, India is still a victim to populism and as evident now, extremism - and hating on Pakistan is easy to do.

All of the above apart, the people of Pakistan and India do not hate each other. Whenever we meet outside the subcontinent, we fast become like brothers and sisters since we share so much in common - history, culture, and values. If there were more people-to-people contact, several of our problems would have been resolved. Alas, such a thing does not serve vested interests. One can still dream, though."




Ismail Khan

"The biggest reason I see is that we do not interact directly. The books that we have been reading glorify war and only teach us about martyrs. We grew up listening to 'milli naghmay' to feed patriotism into us. At a young age, there is a lot of other important stuff to learn about. Moreover, there is so much frustration in both the countries and its human nature to find someone to blame. This hatred feeds into that role as well. We need to develop contacts. One of my best friends in graduate school in London is an Indian guy from Mumbai."

Shruti Rao

"Especially in the India-Pakistan context, but also true for most geopolitical conflicts, it seems like this political suspicion and hatred is a well-oiled machine both ways that help keep questions of nationhood still relevant. Basically, I think there is too much money, political and communal identity claims to make off the idea of the self and the enemy. Looks like it is working perfectly for both countries.

'I love Pakistan's people more than its mountains'

Harsh Neerav

"The reason why we are fighting is that we have a lot of hate inbuilt within us, partition, wars, Kashmir and what not. I belong to a family that migrated from Gujranwala (Pakistan). My parents were toddlers during the horrific and uncalled-for journey. My mom actually lost an elder sister during the partition journey. But, surprisingly they are not bitter at all, as compared to a few people who have not even crossed the borders of Delhi. We are fed in this hatred externally. Every political party (on both sides) has to prove themselves right by proving the other country wrong. We have filled the pockets of Americans, Israelis and others by depriving our children of basic nutrition."

We are mad about cricket too. No!




Usama Khilji

"My favourite Indian cricketers are Yuvraj Singh and Virat Kohli for just how good they are at the game. A memory from a Pak-India match is when in the heat of the moment, I jumped to catch the ball while watching the game on TV. I just thought the Pakistani fielder would drop it. I think Yuvraj's batting skills would be a great addition to the Pakistani cricket team, though our team seems to be getting much better now, as evident in the Pakistani win of the Champion's Trophy."

This Indian's heart-warming message to Pakistan cricket team is going viral

Minaam Karim

"I really admire the former captain of the Indian cricket team, MS Dhoni, for his visionary leadership, maturity and ability to handle pressure. The fact that he is an amazing batsman and wicketkeeper makes me his fan. Another Indian player I greatly admire is Virat Kohli. He is simply the best batsman in the world and his technique and aggressive style make him an absolute treat to watch. I love the fact that despite his aggressive approach during a game, he proves that he is also a great sportsman when he gifted a bat to Muhammad Amir on the eve of their T20 world cup match to his grace in conceding victory to Pakistan after the ICC Champions Trophy final. It takes a great sportsman to not let such unbelievable talent feed into intolerable arrogance."




Cletus D' Souza

"I grew up watching cricket in an era where Sachin Tendulkar was smashing centuries for fun, and Pakistan had the best bowling attack I have ever seen. Which is what made watching India-Pakistan matches super fun. I absolutely enjoy the rivalry (in good spirits). You cannot describe the feeling of watching an India-Pakistan match, especially during major tournaments. It is unreal! Most memorable moments for me, as a team India supporter is the semi-final win of the 1996 World Cup and the T20 World Cup final win in 2007. My favourite Pakistani cricketers have been fast bowlers (Imran Khan, Wasim Akram, Waqar Younis, Shoaib Akhtar). If I had to pick one for my team, I will go with Wasim Akram. Imagine having an inspirational figure like Wasim Akram on the Indian side. Just perfect I think! Of the current lot, I will pick Mohammad Amir."

Harsh Neerav

"My favourite Pakistani cricketer is Wasim Akram; he is a thorough gentleman. I interacted with him very briefly at London Heathrow Airport once (my fanboy moment!!). Otherwise, my favourite moment was when Shoaib Akhtar sledged Virender Sehwag when he tried and failed to hook a shot for a six and Sehwag replied to him pointing towards Tendulkar. I would love to see a pacer like Mohammad Amir on the Indian side."

Have we failed our minorities?




Usama Khilji

"The situation for religious minorities in both India and Pakistan has only worsened since partition. India has had a secular constitution; the increase in intolerance towards religious minorities is unbecoming of its reputation of a secular democracy. In Pakistan, on the other hand, there has been systemic discrimination against religious minorities."

Komal Shakeel

"We have failed to give them equal opportunity and social acceptance."




Sana Khan

"Both the countries have miserably failed in their treatment of their minorities. Both the nations have been high on social conservatism of religious nationalism for some time now. The nation-states on both sides of the border have never seen the minorities as part the nation in the true sense, for example in Pakistan, some would still be called as Muhajirs while in India, a Muslim has to again and again 'prove' her patriotism. So it is in the failure of recognising the minorities as part of the larger nation which has resulted in poorer conditions – social, cultural, economic, and political conditions of the minorities."

Indians sing Pakistan's national anthem as Independence Day gift

Cletus D' Souza

"We live in countries where religious violence is very prevalent. Religious intolerance, coupled with extreme nationalism is invariably going to result in minorities feeling outnumbered and threatened. More so, the hate crimes in recent times against religious minorities have only aggravated the situation. We have failed, not only in protecting the minorities but also in making them feel safe and secure by not taking a strong stand against the crimes. A little empathy towards other religious faiths would go a long way in helping them get rid of their insecurities and making them feel that they can co-exist in harmony."

They say all's fair in love and war




Minaam Karim

"I certainly hope we can change the narrative of war. In my opinion, nationalism should only be tolerated on the sports field and nowhere else. We need to stop celebrating war and stop our worship of the weapons of mass destruction in our possession. We are two extremely poor countries with massive income inequality and deplorable living conditions for a majority of our population and yet we take pride in our ability to destroy one another. I truly hope to see a South Asia working along the lines of the European Union or North America one day. In that, there is a free movement of people and inter-connectivity on a massive scale."

Komal Shakeel

"I think a forward-looking approach is required now. We dwell too much in the past. It is essential to know about history but also recognise that history is coloured by those in power. We need to understand that reality is much more complex. And maybe we can just forgive our ancestors for their mistakes and really move forward as cordial neighbours."




Cletus D' Souza

"Clearly, there has been no happy endings to the numerous wars we have fought over the last 70 years. It is about time we give peace a chance. Both countries need to take a step back and realise that their actions have resulted in communal hatred and violence, abuse of human rights, innocent deaths, people losing their homes and radicalisation of youth.

It is important that both countries resume and constantly engage in peace talks with an intent to make both our nations a war-free nation. There have to be collective efforts on both ends to withdraw our respective troops from the borders, rehabilitate the war-torn areas, tackle our common problems together as a unit and set an example for the younger generation. If we need to educate children of India and Pakistan about a peaceful future, we need a mentality change ourselves. We need to learn from our mistakes, teach the children basic values of love and humanity, help the children grow up to be peaceful and open to all faiths and cultures."

'Chance of war' between nuclear-armed China and India

Sana Khan

"I feel the narrative on war can only be changed if people on both sides realise that our stories of love, friendship, pain, blood and tears have been the same. That is what connects, not hate. On Republic or Independence Day it is all about showing the might of the state. It only glorifies the power of the nation.

I remember my father being part of the Republic Day parade. And, I also remember my father telling me that never to relate oneself with the power of military but the power of community living. So even though it was seen as a proud moment, one was to also see it as just an event where state leads a kind of nationalism that we all feel part of the same nation. This does not really teach one of a peaceful future but simply loyal towards one nation. There is nothing wrong in that, just that when this becomes hedonistic it results into militant nationalism which is dangerous."

What about Kashmir then…




Ismail Khan

"Pakistan is already a big country and has so many areas that are already ignored. They can be developed but all the resources go to a few places. So, there are areas that are neglected due to which we have problems such as extremism. So, I don't know what we could do with Kashmir!"

Cletus D' Souza

"When you say, 'support of its people', do you mean Kashmir voting to be a part of India? Without any territorial dispute with Pakistan? Oh man, I'm just going to focus on the positives here. Economically, India would have progressed a lot more by using the money spent on wars for development. Politically and trade-wise, India would have had much better relations with Pakistan. India and Pakistan wouldn't be as hostile towards each other as they are now. No Indo-Pak war movies! Kashmir would have been one of the most beautiful places on earth. People from all over the world would have travelled to Kashmir. Revenues from tourism and other channels would have contributed to the economy. But most importantly, Kashmir would be war-free and the people of Kashmir would have lived peaceful and happy lives."

US to mediate between Pakistan and India over Kashmir issue

Sana Khan

"What could be said is of how it is developing now. What Indians accept as the norm is an exception in Kashmir, what Indians see as exceptional (extrajudicial killings, torture, rape by security forces) is the norm there (as special laws protect the armed forces from any scrutiny). The world's largest democracy continues to kill unarmed protestors every day in the Indian-controlled Kashmir. Probably the need of the hour is to have a plebiscite, maybe then we would get our answers as to how Kashmir would develop under India, or under Pakistan or as an autonomous state."



Shanel Khaliq is a freelance journalist and a teacher who is interested in issues related to gender, race and social justice. She tweets @Shanel9999
COMMENTS (2)
Comments are moderated and generally will be posted if they are on-topic and not abusive.
For more information, please see our Comments FAQ