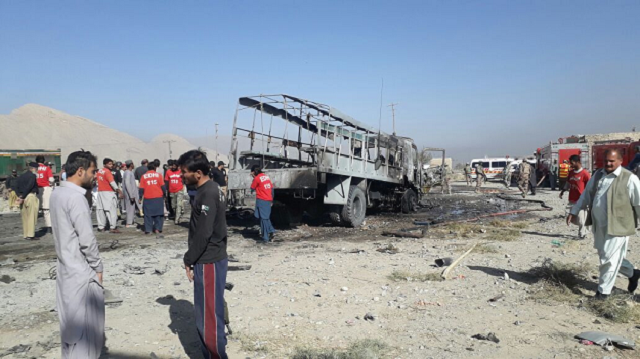 ---
QUETTA: At least six police commandos and a civilian were martyred and 22 others sustained injuries when an explosives-laden vehicle rammed into a security forces convoy on the Quetta-Sibi Highway on Wednesday morning.

The attack on the law-enforcement personnel took place some 14 kilometres outside the Balochistan capital, Chief Minister Sanaullah Zehri said.

Home Minister Sarfaraz Bugti said the martyred personnel were the elite commandos from the Balochistan Constabulary (BC).




According to officials, a bus carrying commandos from the Rapid Response Group (RRG) was coming to Quetta with another security vehicle when the suicide attacker hit them near a railway crossing on the highway.

At least seven people, including six security personnel, were martyred on the spot and 22 others sustained injuries, the officials said.

Chief Minister Zehri told reporters that the attacker used 70 to 80 kilogrammes of explosives in the attack.

Rescuers and law enforcement personnel rushed to the spot and shifted the bodies and the injured to hospitals in Quetta and blocked the highway for traffic. Medics said most of the injured were being treated for burn wounds.




"Police were targeted in this attack," Bugti told AFP adding that a car rammed the police vehicle before catching fire in what was "apparently a suicide attack". Quetta police chief Abdul Razzaq Cheema also said that it was suicide attack.

Hours later, armed men riding a motorcycle opened fire on a car on Qumbrani road, killing one Counter Terrorism Department (CTD)'s fencing expert Abdul Salam, said Ayoub Qureshi, the acting Inspector General of Balochistan Police.

"We can't confirm that both attacks were carried out by one group," Qureshi said. "Police have found six 9mm bullet casings from the spot. The picture would become clearer after forensic investigation," he added.




"A forensic team has been called from Lahore and it will reach [Quetta] tomorrow. After collecting DNA samples [and carrying out] vehicle analysis and other formalities, we will proceed further with the investigation," said the Balochistan police chief.

Chief Minister Zehri later chaired a high-level security meeting. He hailed the sacrifices rendered by the security forces in the war against terrorism. He directed the authorities to review the security arrangement across the province and take solid steps it improve them.

"We are living in a conflict zone. Hostile agencies, sitting in Afghanistan, are fuelling terrorism in Balochistan. Terrorism is causing disturbance here, but we will deal with them strictly as we dealt with them in the past," Zehri said.

Meanwhile, funeral for the martyred police personnel was held in Quetta in the evening. The chief minister, Commander Southern Command Lieutenant General Asim Saleem Bajwa, the inspector general of the Frontier Corps, provincial ministers and others attended the funeral.

Lieutenant General Bajwa, accompanied by the IGFC, also visited the Civil Hospital and enquired after the injured.