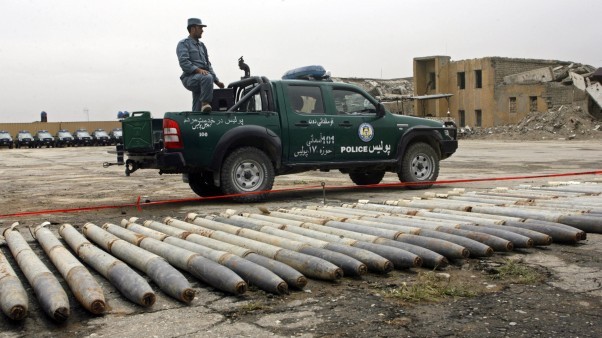 ---
KABUL: Afghan police unearthed a cache of hundreds of rockets on the outskirts of Kabul on Saturday.

Officials said they believed the weapons were earmarked for use against an upcoming jirga next week.

The discovery came just days after Taliban insurgents launched a suicide and rocket attack against NATO's biggest military base at Bagram, an hour's drive north of Kabul.

Also this week, a Taliban suicide bomber rammed an explosive-laden van into a NATO convoy in Kabul, killing six servicemen and at least a dozen Afghan civilians.

Speaking during a news conference in Kabul, city police chief Abdul Rahman showed nearly 300 122mm rockets, telling reporters that "spy agencies of neighbouring countries" had been seeking hired guns to fire them.

Officials often refer to Pakistan in these terms, and more specifically to its perceived support for Taliban militants which Islamabad denies.

"Some elements were paid to relocate these rockets and intelligence gathered shows around 20 million Pakistan rupees was promised to those who would undertake the launching," Rahman said.

Afghanistan is holding a jirga on May 29, where thousands of community elders and Afghan officials will try to find ways to convince Taliban insurgents to enter into peace talks.
COMMENTS
Comments are moderated and generally will be posted if they are on-topic and not abusive.
For more information, please see our Comments FAQ