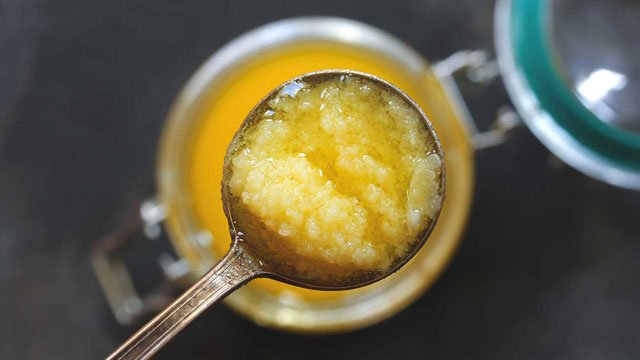 ---
LAHORE: The Punjab Food Authority (PFA) has decided to ban the manufacture and sale of banaspati ghee by July 2020 due to its extremely hazardous effects on the human body. The authority has also decided to restrict the quantity of trans fats (trans-fatty acids) up to 0.5%.

The Scientific Panel of the provincial food watchdog made this decision in a meeting here on Wednesday.

The panel observed that a high quantity of trans-fatty acids, palmitic acid and nickel were used in manufacturing of banaspati ghee and served as a 'catalyst' that may cause fatal diseases like obesity, diabetes, mental diseases, heart diseases and cancer.

As per Codex Alimentarius Commission standards, the expert panel has also decided to restrict trans-fatty acids up to 0.5 per cent. The authority has planned to give three years' time to banaspati ghee manufacturers to shift or develop alternatives production streams. By 2020, it will completely ban banaspati ghee in the province.

PFA Director General Noorul Amin Mengal said estimates suggest annual consumption of cooking oil and ghee for each person is around 18 kilogrammes in Pakistan, whereas it is merely three kilogrammes in Europe.

"By keeping these facts in view, the public must be made aware of that olive oil, soybean oil, sunflower oil and other vegetable oil should be consumed instead of banaspati ghee."

He underscored that the PFA's prime objective was to preserve the health of Punjab's population at any cost. Hence, it decided to remove any obstacle in the way of this cause as a matter of priority.

Rewarded

The PFA has rewarded Rs25,000 to Hico Ice Cream for maintaining high cleanliness and hygiene standards in its factory.

Penalised

The provincial food watchdog has also sealed a famous coffee house on Mehmood Kasoori Road in its campaign to inspect eateries in posh neighbourhoods of the city. The restaurant was sealed for not maintaining cleanliness on kitchen premises, while there was also a presence of insects and the lack of a food licence.

PFA's food safety teams, under the supervision of PFA Director General Noorul Amin Mengal, along with Deputy Director Operations Farhan and food safety officers, raided several eateries and checked their production areas on Mahmood Kasoori Road, Gulberg 2, Multan Road, DHA and other areas of city.

Raiding teams have issued fine tickets of Rs25,000 each to International Bakery and Khalid Vermicelli located at Ghalib Market and Latif Chowk Vandala Road in Shahdara, respectively. The authority issued improvement notices to 23 eateries, including Second Cup Coffee, Gloria Jeans and Coffee Planet in DHA Phase-5 as well as Malmo Sweet and Bakers at Bhobattiyan Chowk and other food points.

Mengal said PFA is heading towards its goal of a healthy Punjab by ensuring the implementation of food laws and availability of good quality edible products. He said that PFA was not only issuing fine tickets and sealing the unhygienic premises, but also encouraging other eateries by rewarding them for maintaining standards set by PFA.
COMMENTS
Comments are moderated and generally will be posted if they are on-topic and not abusive.
For more information, please see our Comments FAQ