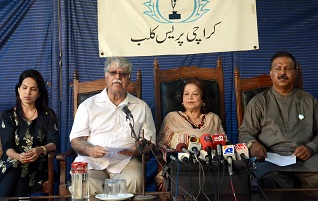 ---
KARACHI: The recent murder case of Tania Khaskheli should be transferred to an anti-terrorism court in Karachi, urged a joint action committee comprising members of various civil society organisations.

The committee added that the government should stop patronising the victim and her family and being sympathetic to the accused and collaborators for the prevention of such cases from happening in the future.

During a press conference held on Wednesday at the Karachi Press Club, they also urged that the family of Khaskheli should be given protection from the accused as her father is facing continuous threats.
Human Rights Commission of Pakistan (HRCP) Vice-Chairperson Asad Iqbal Butt said that all discriminatory laws, which have become the basis of exploitation of women, must end. Butt emphasised that the laws which protect and empower women must be implemented in true spirit.

'Influential PPP man' still at large in Tania Khaskheli's murder case

Butt told The Express Tribune that scientific investigations must be introduced to solve murder cases and termed the investigations based on witnesses 'traditional'. The investigation can be influenced by powerful people as in the recent murder of a young student in her hometown of Dadu, he said.

"Tribal, religious and political pressures are influencing [Khaskheli's] the family and resultantly, her family will not get justice," he lamented.

"This murder case must be made a test case so no other girl is mistreated in the future," said Karamat Ali of the Pakistan Institute of Labour Education and Research.

According to Ali, the public should be mobilised to put pressure on the government. He urged that Pakistan be de-weaponised by introducing comprehensive reforms, especially in the police, in order to stop injustices faced by women.

Tania Khaskheli murder: Police record witnesses' statements

National Commission on Human Rights Sindh chapter member Anis Haroon said that no one's children are safe anymore. Khashkheli's family has been forced to migrate from her ancestral home and even her three sisters are not safe, she said while addressing the media.

"The visit of the chief minister and inspector-general of police to her [Khaskheli's] home is not enough. In fact, the family should be compensated and rehabilitated by the government, which is not happening at the moment," Haroon added.
COMMENTS
Comments are moderated and generally will be posted if they are on-topic and not abusive.
For more information, please see our Comments FAQ