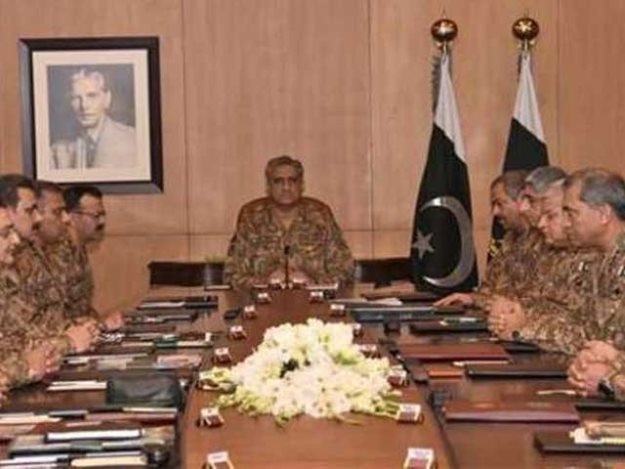 ---
ISLAMABAD: A special corps commanders' conference presided over by army chief General Qamar Javed Bajwa was convened on Tuesday at the military headquarters amid reports of a rift between the civilian and military leadership.

The Inter-Services Public Relations (ISPR), which is usually active in updating the media on the military developments, was unusually mum over the top command's huddle in Rawalpindi. It was rare that the military's media wing did not issue a press release, fuelling all kinds of speculations.

A source confirmed that it was not a monthly [routine] meeting but a special corps commanders' conference, which lasted for over seven hours. No details were provided. Despite repeated attempts, the ISPR remained tight lipped.

We will defend our motherland whatever the cost: COAS

The meeting, however, was seen as significant against the backdrop of recent events, including the fiasco surrounding the mysterious deployment of the Rangers at the accountability court Islamabad on Monday.

The paramilitary force that took over the security of the court hearing corruption references against deposed prime minister Nawaz Sharif and his children, had barred several senior PML-N leaders – including Interior Minister Ahsan Iqbal – from entering the premises.

That prompted the interior minister, who is technically in charge of the paramilitary force, to warn that the government would not allow 'a state within the state'— a reference to the security establishment.

He went on to say that if the situation continued he would quit rather than staying as a 'puppet' minister.

The bizarre situation witnessed outside the court on Monday provided an opportunity to the PML-N leaders to point out that Sharif had been ousted from power under a conspiracy.

COAS calls for holding public officeholders accountable

The deposed prime minister on Tuesday returned as president of the ruling party – a move seen as a message to his opponents that he would not go down without fighting.

The source said the top military brass must have taken note of the statements coming from the ruling party and some ministers dragging the army in political matters.

Another issue that the military establishment is reportedly perturbed over was the recent controversial statement given by Foreign Minister Khawaja Asif during his visit to the United States.

Some sources say the army is expected to clarify its stance on these issues in coming days. They say the ISPR director general may address a news conference in this regard. "However, nothing is finalised yet," once source added.

Also, Tuesday's meeting came just two days after the army chief visited Afghanistan in a crucial visit to defuse months-old tensions with the estranged neighbour. He was accompanied by the DG ISI and the foreign secretary.

After the visit, both the countries agreed on a framework to work towards creating conducive environment for a political process which, the two sides said was essential for breaking the 'stalemate' and finding a peaceful solution to the long running conflict in the war-torn country.