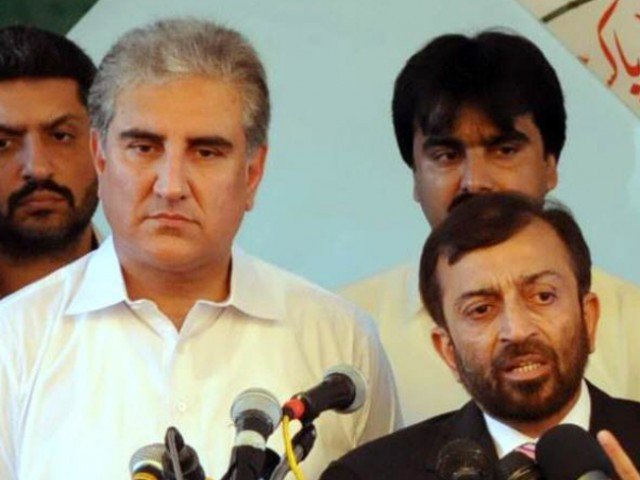 ---
ISLAMABAD: While Pakistan Tehreek-e-Insaf (PTI) may be hoping to capture the slot of leader of the opposition in the National Assembly, its mainstay of the move, Muttahida Qaumi Movement (MQM), is using this opportunity as a bargaining chip in Sindh.

The MQM had joined the move to pressurise the Pakistan Peoples Party (PPP) in Sindh, sources close to the development told The Express Tribune. "MQM-Pakistan is demanding that the next caretaker chief minister should be of Urdu speaking Mohajir ethnicity besides seeking a major share in the nominees of the caretaker setup in the province for the upcoming general elections," sources said.

However, the fresh move to change the leader of the opposition seems to have lost steam. Inside sources claim that the MQM-P's assurance to the PTI that it was ready to join hands with the latter for replacement of Khursheed Shah was a ploy.

Rivals PTI, MQM-P search for common ground

Sources further claim that MQM-P has no intention of backing PTI's agenda as its real stakes lie in Sindh. "It will enter into some deal with the PPP," the sources added. In this backdrop, most political analysts believe that the PTI's push to change leader of the opposition will not succeed and it will be yet another false start in the parliamentary politics for the party that has an unenviable record.

PTI and MQM-P are in talks over an alliance to remove PPP's Shah as the opposition leader in the lower house of Parliament and over a joint campaign in the upcoming election.

Last week, a PTI delegation led by Shah Mehmood Qureshi had called on MQM-P chief Farooq Sattar and other leaders of the Karachi-based party at their temporary headquarters in Bahadurabad to discuss Shah's replacement. Later, leaders of both the parties hinted at their alliance in the next general election as well as bringing a new leader of opposition in the National Assembly as they concluded their first round of talks.