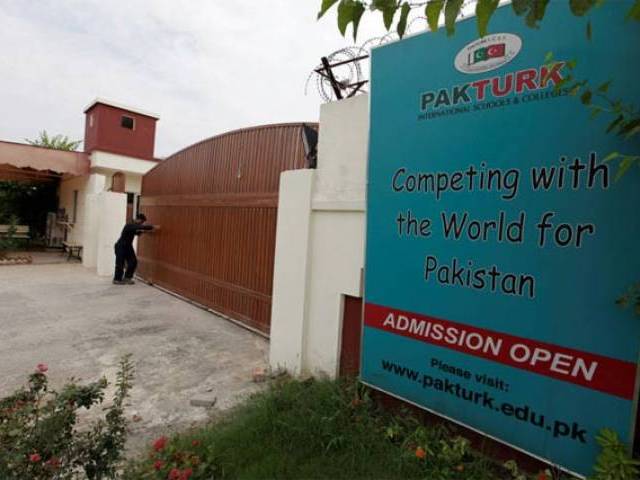 ---
LAHORE: The Lahore High Court issued orders to stop the deportation of the teachers of Pak-Turk schools and told the Federal Minister for Interior to submit a reply on the matter by October 6.

Justice Shams Mehmood Mirza ordered the clubbing of all petitions filed by Turkish teachers. The orders were issued when the court was hearing the petition of Murat Erdogan. Advocate of the petitioner, Asad Manzoor Butt, told the court there was chaos in Turkey due to the political instability.

Turkish teachers vow to continue serving Pakistan 

"Opponents of Erdogan are being victimised. His opponents in Pakistan are also being targeted. Turkish nationals residing in Pakistan enjoy protection under international agreements," the lawyer said. He added that regardless of the situation in Turkey, these teachers were still being deported.

He also pointed out that court had already issued stay orders against their deportation.

The court, after hearing the arguments, issued orders to stop deportation of Turish teachers. It also sought a reply from the interior ministry by October 6 and asked that the petitions of all Turkish teachers be clubbed.

On September 27, Rumi Forum Chairman Mesut Kamcaz, his wife and two teenage daughters were picked up. The victims had an asylum certificate, issued by UNHCR, which was valid till November 27.

Earlier, the attorney general of Pakistan, on a petition, had told the court that the government was not deporting Turkish teachers affiliated with Pak-Turk schools till November 24, 2017.

On Friday last week, Turkish teachers expressed their utmost desire to live in Pakistan and not to be deported to Turkey.

Living in fear: Turkish teachers move court against deportation

They were speaking during a news conference at the Lahore Press Club on Friday. Fatima Tosun, a teenage Turkish girl, daughter of a woman vice-principal of a Pak-Turk School, said that she came to Pakistan more than ten years back. She was five years old at the time.

"Pakistan is a country of freedom and democracy for me. I love Pakistan and I don't want to leave it," she said. My foreigner friends often say you live in Pakistan? How are you still alive there? I reply that this is my country.

They don't know how loving the place is, how good the people here are." The teenager says she has known no other country other than Pakistan as this is the place she grew up in and became conscious.

Tosun said that Huma and Huda were her friends for 10 years and were her sisters. She remained extremely worried about them. "We don't know how they are or what are they doing. And also whether they are safe and have eaten or not?

She further stated that Meral is her mother. "She is not just the mother of Huda and Huma.

Novin Tosun said that she was the vice principal of a Pak-Turk school and had been in the country for ten years. "I have three children.

The last one was born in Pakistan and he is a two-and-a-half-year-old. I have named him after Iqbal, Pakistan's national poet. Tosun said that Meral was like her sister. "Her daughters were the only friends my daughter Fatima Tosun had," she added.

"We are two sisters.  My other sister (Emine Emrah Gelik) has been in jail with her husband since August 2016 in Turkey. She has three children and their uncle was looking after the children," Tosun said. She feared a similar fate if deported to Turkey.

Published in The Express Tribune, October 3rd, 2017.