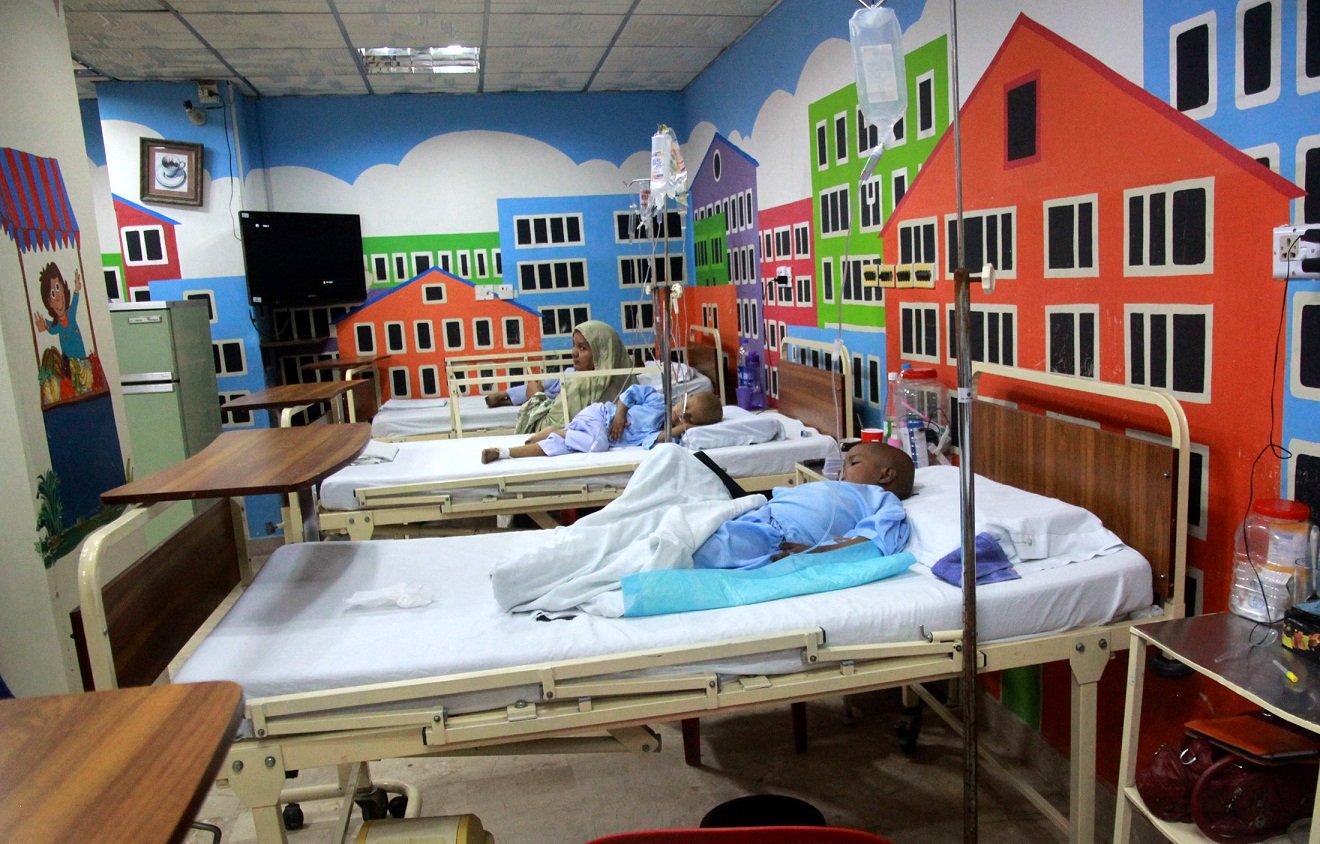 ---
KARACHI: A mother, after every 15 days, takes her only child suffering from cancer to a dedicated healthcare facility situated on the third floor of the National Institute of Child Health (NICH).
NICH's staff takes care of ailing children and treats young cancer patients.

"I have been coming here for examinations following chemotherapy sessions of my son since he was just a little more than two years old," said Yasmeen, mother of Muhammad Ali who suffers from leukemia, a type of blood cancer that results in shortage of red and white blood cells. She added that five treatment sessions have already been carried out, which have significantly improved her son's condition, who is now three-and-a-half years old.

Some superheroes fight villains, others defeat cancer

According to Yasmeen, Ali had high fever and was taken to the emergency ward at NICH, where he was diagnosed with leukemia after thorough medical examination.

Another such case at the facility is that of Isha, an 11-year-old girl whose disease made her parents move to Karachi four months ago from Sadiqabad, after she was diagnosed with a tumor in her stomach in Rahim Yar Khan.

Isha, the eldest among her five siblings, was then studying in class three at a neighbourhood school. The family has currently been living in a rented house in the outskirts of Malir and her father has taken up a job as a security guard in a private company to meet the expenses of his family back home. Her chemotherapy has not begun and she fears that her three-year-long stay in Karachi for treatment will be tiresome.

Court wants update on Sindh Healthcare Commission

"I suffer from high-grade fever frequently and have lost all my hair due to the side effects of chemotherapy," said another patient, belonging from Turbat. He added that he was hopeful that after recovering completely he would return to his hometown.

The children's cancer centre at NICH treats children upto 14 years of age. According to the incharge of the unit, Dr Uzma Imam, more than 60% of the patients are from Karachi, whereas the rest come from other parts of Sindh, as well as southern Punjab and Balochistan.

According to her, most children suffer from cancer due to genetic and hereditary factors, while some suffer due to environmental factors.
"Initially, the starting eight months of treatment are rigorous as intensive treatment sessions are held for which patients have to remain in the city," Dr Imam said. She added that the entire modality lasts up to three years where the chemotherapy block can vary between two and 10 days.

Residents will not be free to openly defecate in Sindh by 2025

"Deadly infections can cause deaths and patients' parents are suggested to address infection prevention at their homes as the immunity level of the patients is low," she said.

She told The Express Tribune that the common treatment modality is chemotherapy sessions, whereas radiations and surgeries are residual treatment carried on patients depending on their condition. "Leukemia is 60% treatable. Other major types of cancer at the facility are Hodgkins's lymphoma, which can be cured 90% of the time," she added.

"Cancer cases and their awareness have been increasing and in 2016, more than 600 new patients were treated at the facility," she said.

The facility has haematology and pathology laboratories, including a chemotherapy bay and an outpatient department section, as well as a general medical ward, where patients who cannot withstand the after effects of chemotherapy are admitted.

'Govt committed to providing high-quality healthcare'

Child Aid Association General Secretary Dr Salman Burney, who also runs the centre, told The Express Tribune that the organisation started in 1979 and treated all kinds of patients but in 1999 the organisation started treating cancer patients only.

According to Dr Burney, the Sindh government pledged to donate around Rs50 million this year but the funds were never received by the facility. NICH is run with the support of donors, as the average cost of treatment for one patient is up to Rs300,000.