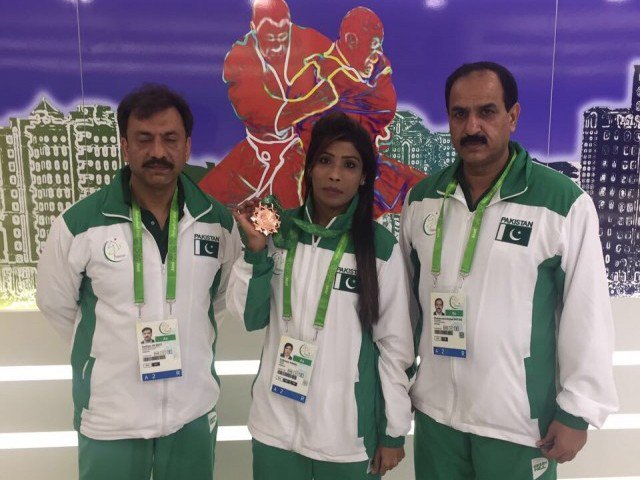 ---
KARACHI: Pakistani contingent wrapped the Asian Indoor and Martial Arts Games with 21 medals as the wrestlers failed to get past the quarter-finals on the last day of their events.

Pakistan managed to collect two gold medals, in men's ju-jitsu duo show and 4x400 relay swimming men's event, while three silver medals came from Muhammad Adnan in wrestling -90 pehalvani event, Ammar and Abu Hurraira in duo system ju-jitsu and Komal Emmauel and Rafiq Siddique in ju-jitsu duo mixed system competitions.

The rest of the 16 were bronze medals as Pakistan stood 22nd out of 34 countries on the second last day of the Games.

On Pakistan's last day of the events, Muhammad Azhar lost to Kazakhstan's Adios Sultangali 2-0 in -59kg greco-roman wrestling event, Muhammad Umair lost to Tajikistan's Sukhroj Azizov 4-0 in 130kg greco-roman event, and Shaukat Ali lost to Japan's Yamato Ui 1-0 in the 66kg greco-roman event.

Wrestling's best fight came from Muhammad Inam on Monday night when he was looking for a bronze medal in the freestyle 86kg event, but he lost to Kazakhstan's Adilet Davlumbayev 5-8 for the third place.

In snooker, Asjad Iqbal failed to confirm a bronze medal when he lost to China's Xintong Zhao 4-1 in the quarter-final.

The games will go on till Wednesday and host Turkmenistan are far ahead of the rest of the countries with 86 gold medals, while China are on the second spot with 38 gold medals and Iran are third with 26 gold medals.
COMMENTS (1)
Comments are moderated and generally will be posted if they are on-topic and not abusive.
For more information, please see our Comments FAQ