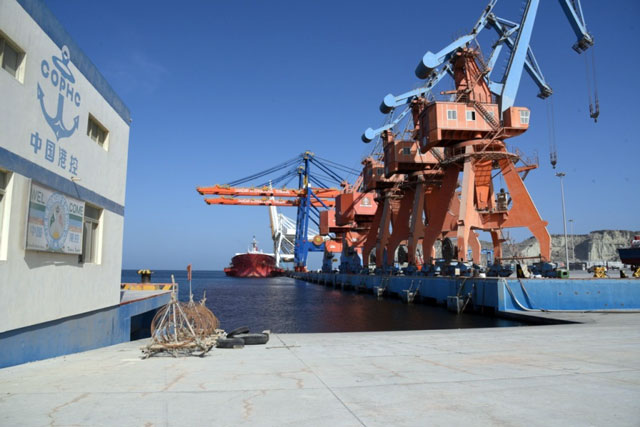 ---
"I am very happy to have acquired a chance to work in Gwadar Free Zone with the privilege of staying with my family, something I could not have afforded a few years ago when I worked in Karachi," explains Baba Dadullah, a senior officer of China Overseas Ports Holding Company Pakistan (COPHC). "Life was not easy being away from my aging parents and young children who were in Gwadar."

Dadullah, whose family has lived in the heart of the port city for many generations now, is quite expressive about his love and passion for the betterment of his people. "This is my home; I need to be here to make it better. And today I can make that difference while providing a good life for my family," he says.




For 25-year-old Naseem Baloch, the journey has been equally motivating. "I wanted to make a difference in my community. The Chinese offered me a scholarship for a one-year program in their country. This gave me a chance to learn a new language, embrace a new culture and opened my eyes to a fast paced world that I was unaware of. Belonging to a working class family, my exposure was confined to the resources my family could afford. Today I am working as a protocol officer in the Free Zone Company," he says.

Naseem's life has taken a turn that he would have considered unprecedented as CPEC changed his fate and the limits of his horizon. "Gwadar's future is bright. I see it in the way my life, and the lives of those around me, have changed".

Another resident, Ehsan Barket, explains how he went through a hard time owing to unemployment which led him into depression. "But today I am working day and night with other colleagues as a legal officer of the Chinese firm in Gwadar," he says.




One may often find Fazal Karim working in a garden, the garden which could not have existed in a place that was always barren. Likewise one would often come across Raheem Bakhsh as he passionately prepares meals for dozens of residents of the free zone and port. He has travelled the world as a chef and a nutritionist whose knowledge of the plateaus and stories from his adventures echo through the halls of the mess where everyone lives like a family.

And similarly, on the third floor of the port tower behind a neat stack of newspapers, one will find Robina, a young lady, working hard to collect information and working vigorously and right next to her Nazeer Karim in the construction site. And not far from all of them, one will also find over 1,000 Baloch, from senior officers to general laborers, from fresh out of college to experienced men and women — all directly employed at the Gwadar port and free zone.




"Gwadar is experiencing the most rapid development in its history," says Dostain Jamaldini, chairman of Gwadar Port Authority (GPA). To date, COPHC has invested about US$300 million in rehabilitation of Gwadar Port and construction of the free zone. With five more Ship to Shore (STS) cranes just installed in the port, the efficacy of Gwadar port will be improved considerably.




"The desalination plant, warehouse, port road and power distribution system are rehabilitated. There are three to four vessels calling at the port. But what is more exciting is the speed of the construction of the free zone. The team, comprising Pakistani and Chinese officials, is working day and night at a pace no short of miraculous. If you are away from Gwadar for a week, you may return to a new workshop, new buildings 'planted' in the free zone. They do take care of environment as you can see in front of my office a fully blossomed garden and trees along the road. Don't you think having a flowered garden and green trees in Gwadar, which is known as a desert, is magic?"




"The seriousness toward social responsibility of our brothers shall be highly praised," says Babu Ghulab, the chairman of Gwadar city council. "People have realised that the Chinese firm, investing in the free zone and Gwadar Port is taking a big risk for return over its investment. Despite the financial stress, they spend a lot of resources for public social welfare. With assistance from the Chinese government and NGOs, the COPHC has sent over 100 young workers and students to China for professional training or scholarship."

Exampes of the social ventures that COPHC alone has promoted are the Pakistan-China Friendship School, annual scholarships to local youth to China's leading universities, and preference to hire and train local staff over foreigners. The Pakistan-China Friendship School, inaugurated in August, 2016, has attracted 450 children from underprivileged families. The school flaunts modern architecture and facilities.




"Because of high quality education, dedicated staff and modern state of the art facilities, more families are enrolling their children in the school. The school which currently has a capacity of 150 students is accommodating three times as much. But despite existing challenges, all students, staff and administration are committed to making the best of everything they have," says Gulab.




In addition to the school, the COPHC is also supporting the construction of an Emergency Care Centre. A Chinese medical team from Shanghai Huashan Hospital, one of the best hospitals in China, consisting of more than 11 doctors equipped with modern medical facilities will be stationed in Gwadar from late of September to provide modern medical facilities to the residents. Along with these, is a 5 MGD desalination plant, power distribution, vocational training institute and many others will improve the socioeconomic development of Gwadar.




People may notice that the CPEC has been misrepresented and misunderstood but according to Dadullah, it is inevitable and should not take us away from our purpose. "Of course it is not fair to our Chinese brothers. But Zhang, our chairman, has told us to focus on development rather than argument," he explains. "Only the future will prove who is right and who is wrong. Zhang often keeps reminding us: 'The Chinese are the fishes in the river, and will return to China sooner or later. But the youth of Gwadar are the fish in the pond, who will remain here forever'. The major responsibility and liability to promote social and economic development is on the shoulders of Gwadar's youth. The Chinese and their investment can at best act as a catalyst but the positive chemical reaction depends on the Pakistani people and the government."
COMMENTS (1)
Comments are moderated and generally will be posted if they are on-topic and not abusive.
For more information, please see our Comments FAQ