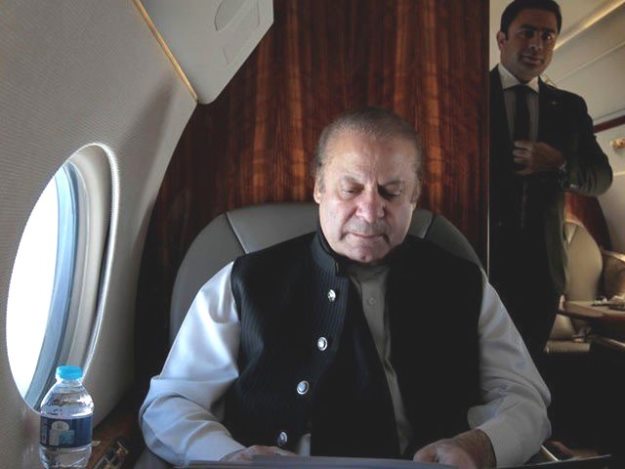 ---
ISLAMABAD: In a dramatic shift on Sunday, ousted Prime Minister Nawaz Sharif announced he would be returning to Pakistan today (Monday) after spending more than three weeks in the United Kingdom to be with his ailing wife. According to his son Hussain, Nawaz has come back to face the references filed against him by the National Accountability Bureau.

Sharif had left for London on August 30. The decision on Sharif's return was taken after two days of parleys between Sharif and his confidantes in London.

Prime Minister Shahid Khaqan Abbasi, Punjab Chief Minister Shehbaz Sharif, Finance Minister Ishaq Dar, Foreign Minister Khawaja Asif, and other leaders were part of the huddles.

Sharif and aides including PM Abbasi were scheduled to take a Pakistan International Airlines flight on Sunday night which lands at Benazir Bhutto International Airport in Islamabad on Monday (today) morning.

Pakistan Muslim League-Nawaz Chairman and Leader of the House in the Senate Raja Zafarul Haq confirmed to The Express Tribune that the ex-premier would be flying back with the PM, finance minister, foreign minister and others. To a query, the chairman PML-N said that except for Dar, other Sharif family members would not be accompanying Nawaz.

"Kulsoom Nawaz has had a series of successful surgeries in London and she is recovering fast, but it's unlikely that other family members would accompany Nawaz as they want to be with her. Nawaz was satisfied with the pace of Kulsoom's recovery, so he decided to fly back," he said.

Speaking to the media in London before flying back to Pakistan, Nawaz said he did not even snatch a penny from the nation's money. "We did not commit any corruption. If this was all about Panama, why was I punished for possessing an iqama (work permit)?"

He said there was no reference against him for corruption or taking kickbacks. "References have much to do with probing corruption like taking bribes or commissions. What kind of references are these when there's no case of corruption on our part? Our business from 1972 is dragged into this issue." Sharif said of the ongoing NAB inquiry against him and his family. The deposed PM said he had no plans to move to London and went there to be with Kulsoom while she was being treated.

Later, Hussain Nawaz told reporters that his father came to London because of his mother's health, and despite the fact she is still under treatment, he is returning to Pakistan because he does not want to let anyone imply that he is afraid of facing the courts.



Making it happen



Party sources said the decision to return to Pakistan came during a one-on-one meeting between Nawaz and Shehbaz. Prior to that, at least three consultative sessions took place between the former PM, the incumbent PM, the Punjab CM, the finance minister, and the foreign minister, but no decision on Sharif's return was taken, it is learnt. Sharif did not speak his mind on when to return home till he discussed the issue with Shehbaz, sources said.

It is still unclear whether or not the ex-PM and Dar would appear before an accountability court on Tuesday, where a Supreme Court-mandated inquiry is under way against them in connection with the Panama Papers case. Even though some unconfirmed reports did rounds that the premier and Dar would either appear in person before the court, party leaders declined to confirm this claim or even to speak on the matter.


A PML-N lawmaker, requesting anonymity, said the former PM is concerned by what he believes is the negative media campaign against him and his family triggered by Nawaz's flying to London at a time when references against his family were pending in NAB. By returning home, Sharif wants to convey a powerful message – that he is still politically relevant and is not deterred by the cases against him and his family members.

"Nawaz had to take this decision. It is necessary for the political survival of everyone – the party and himself," the source said, adding that Sharif's absence from the country was allowing the opposition to cash in on the situation by propagating that the PML-N supremo's political career was over.

More harm than good?

Even though Sharif's arrival in Pakistan is a welcoming development for the party's rank and file, top government functionaries at the centre and Punjab are concerned that Sharif's critical stances on the security establishment and judiciary could mount problems for the ruling lot. During huddles in London, the deposed premier was reportedly advised by the Abbasi, Shehbaz and Dar to exercise restraint and caution while commenting on state institutions, but Sharif has not paid heed to this suggestion.

The ex-premier is likely to continue expressing strong views about the two state institutions, a reflection of which came earlier on Saturday. In an implied defence of his aggressive speeches in the month of August, the deposed PM told the media that the PML-N's victory in the NA-120 by-election proved that voters support his party's 'GT Road stance'.

Earlier on Friday, the PML-N managed to amend the Political Parties Order (PPO), paving way for Sharif to once again take the ruling party's helms.

Due to the previous language of the PPO, Sharif had to step down as party chief after his disqualification from holding public office under the Supreme Court's Panama Papers case verdict. After the Senate's amended version of the new law is passed by the National Assembly and the president, Sharif would have the all clear to become party chief again.