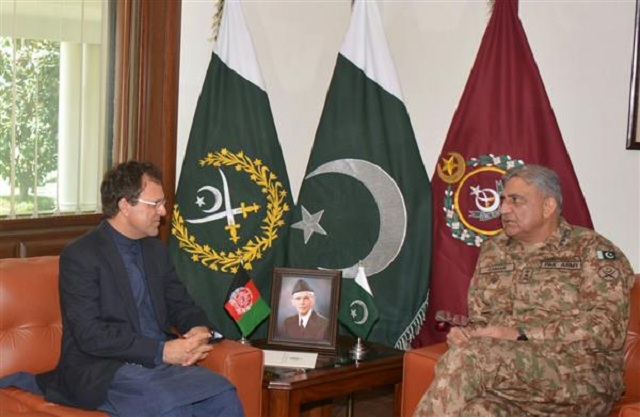 ---




Army chief General Qamar Javed Bajwa and Afghan Ambassador in Pakistan Dr Omar Zakhilwal have expressed satisfaction over the 'gradual improvement in bilateral cooperation' between the two estranged neighbours.

This was said in a statement issued on Wednesday by the Inter-Services Public Relations (ISPR) after Dr Zakhilwal visited the General Headquarters in Rawalpindi and met General Qamar. The ISPR said issues of mutual interests including the ongoing security situation of the region came under discussion.

In a separate statement, Zakhilwal said he had a detailed discussion with the army chief 'for peace and stability' in both the countries.

The two sides, however, did not elaborate the steps that helped 'gradual improvement' in their bilateral ties.

Relations between Pakistan and Afghanistan have been tense for months. The lingering strain in their ties is attributed to the allegations the two sides levelled against each other of turning a blind eye towards certain militant outfits.


Today, met with Pak COAS Gen Bajwa for detailed discussion on host of issues including steps helpful for peace&stability for both nations. pic.twitter.com/e3i3DDDd2h

— Dr Omar Zakhilwal (@DrOmarZakhilwal) September 20, 2017


Kabul has a longstanding demand from Pakistan to eliminate what it calls 'hideouts' of groups such as Haqqani network. Islamabad on the other hand has its own list of grievances such as presence of anti-Pakistan militant outfits on the Afghan soil.

In one of the recent events held in Islamabad, the Afghan ambassador conceded that his country should not have allowed space to groups such as outlawed Tehreek-e-Taliban Pakistan (TTP) and its affiliates. At the same time, he urged Pakistan to do the same with regard to the Haqqani network.

Zakhilwal had also said both sides must share the blame for 'mismanaging' their ties. He had regretted that the two nations looked for help from outside to repair ties instead of talking directly to each other.

On Tuesday, Afghan President Ashraf Ghani appealed to Pakistan to work together to curb militancy in his address at the 72nd UN General Assembly session in New York.


COMMENTS
Comments are moderated and generally will be posted if they are on-topic and not abusive.
For more information, please see our Comments FAQ