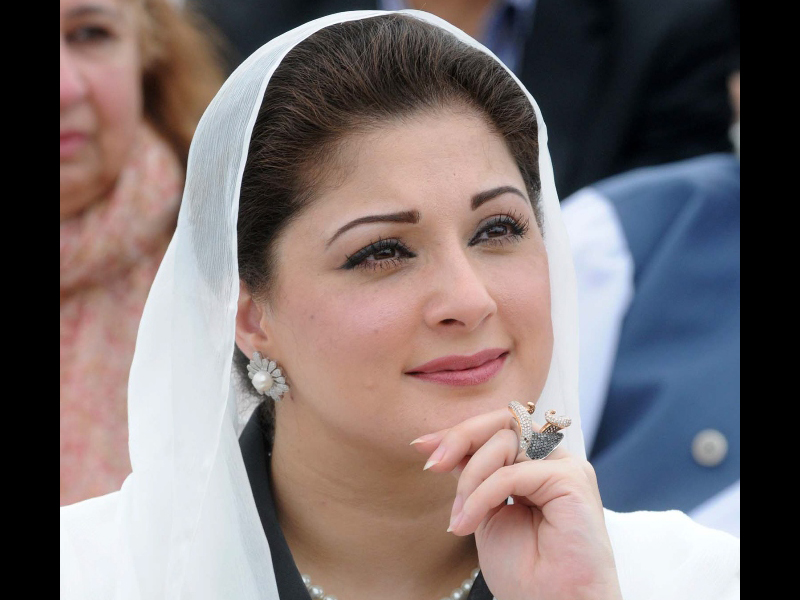 ---
LAHORE: Challenging the top ant-graft watchdog, deposed prime minister Nawaz Sharif's daughter, Maryam Nawaz, has said her father will not appear before any accountability court, come what may.

"Nawaz Sharif is not going to appear before any accountability court. If you want to arrest him then go ahead," Maryam said on Saturday while talking to Express News' anchors – Mansoor Ali Khan and Rehman Azhar.

Sharif family receives accountability court's summons

An accountability court on Thursday summoned five members of the Sharif family on September 19 and the incumbent Finance Minister Ishaq Dar on September 20 in four references filed against them in line with apex court's July 28 verdict.

In reply to a question, she said the leader of the ruling party is Nawaz Sharif and 'all of us' are united under his leadership. She said she viewed the September 17 by-polls as a contest between the sanctity of the vote and the 'conspirators'.

"It was convenient for Nawaz Sharif, against whom cases were filed, to stay silent. However, he has taken the difficult path of going to people and now the debate about the sanctity of peoples' mandate has become a public debate.

"Now people are saying that there is sanctity vote and that there is sanctity of the representative that people have chosen through their votes, ie, the prime minister. Such representative can't be disqualified on the basis of a joke like Iqama [work permit]."

The trial begins: Court summons Sharif, sons on 19th in graft cases

She added: "If you want to disqualify him [Sharif] then you will also have to disqualify all the people who cast votes for him."

The former first daughter, who's leading the campaign for Sunday's NA-120 by-poll, said that it was up to the party whether to allot her a ticket for the next general elections.

The seat fell vacant after Nawaz Sharif was ousted by the top court in a landmark judgment in July in the Panama Papers case.

Maryam extended full support to her father in his political struggle, saying no member of the party came forward [for candidature] when Nawaz was disqualified. "No worker has complained of his absence," she added.

Don't get busy in kitchens on election day, Maryam tells women supporters

She went on to say that "no one will accept the result of NA-120 by-poll if the PML-N is defeated." Such an outcome will be rejected the same way Panama verdict was rejected, she maintained.

The decision to award Kulsoom Nawaz the party ticket for the by-election, Maryam added, was taken after consensus within the party. The former first lady is under treatment for cancer in London.

"A lot of work is needed to be done in NA-120," she said. "I shall help Kulsoom Nawaz complete uplift projects here."

The PML-N leader said former interior minister Chaudhry Nisar is proud of being a confidante of Nawaz. "Nisar calls me his daughter," she said.