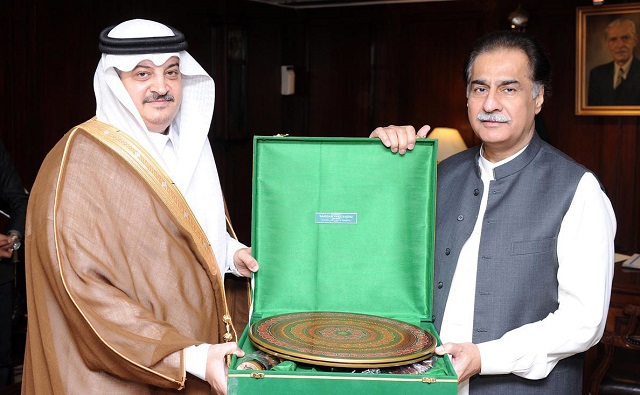 ---
ISLAMABAD: Pakistan is committed to playing a decisive role in peace building in the Muslim world, National Assembly Speaker Sardar Ayaz Sadiq told Saudi Ambassador Nawaf Saeed Ahmed Al-Malkiy, who called on him at the Parliament House on Friday.

Expressing an ardent desire for peace in the region, the speaker said that Pakistan wanted stability and peace because it was crucial for prosperity and development. Pakistan, he added, highly valued its relations with Saudi Arabia and both the countries were tied in "eternal bonds of religion, history and culture".

Highlighting the adverse effects of extremism and terrorism, the speaker said that terrorism had hampered the region's progress, adding that collective efforts were needed to overcome it. "Muslims are (being) victimised all over the world … This is the right time for Muslims countries to think positively for each other," the speaker said.

Ayaz Sadiq sends reference against Gulalai to ECP

Sadiq said instability, sectarian divisions and immense human under-development in the Muslim world had retarded genuine development and fruitful integration of the Muslim world.

The Saudi Ambassador said that his government wanted Pakistan to prosper and develop. Stressing the need for spreading Islam's true message, he said that it was vital to curb extremism and terrorism.

Al-Malkiy endorsed Sadiq's proposal for collaboration to confront shared challenges and stressed the need for deeper engagement between the two countries. "National interests of Pakistan are obviously national interests of Saudi Arabia," the ambassador maintained.

He assured the Speaker that Saudi Arabia was Pakistan's partner in uplifting regional development, adding that Riyadh considered Islamabad its partner in addressing regional and global challenges.