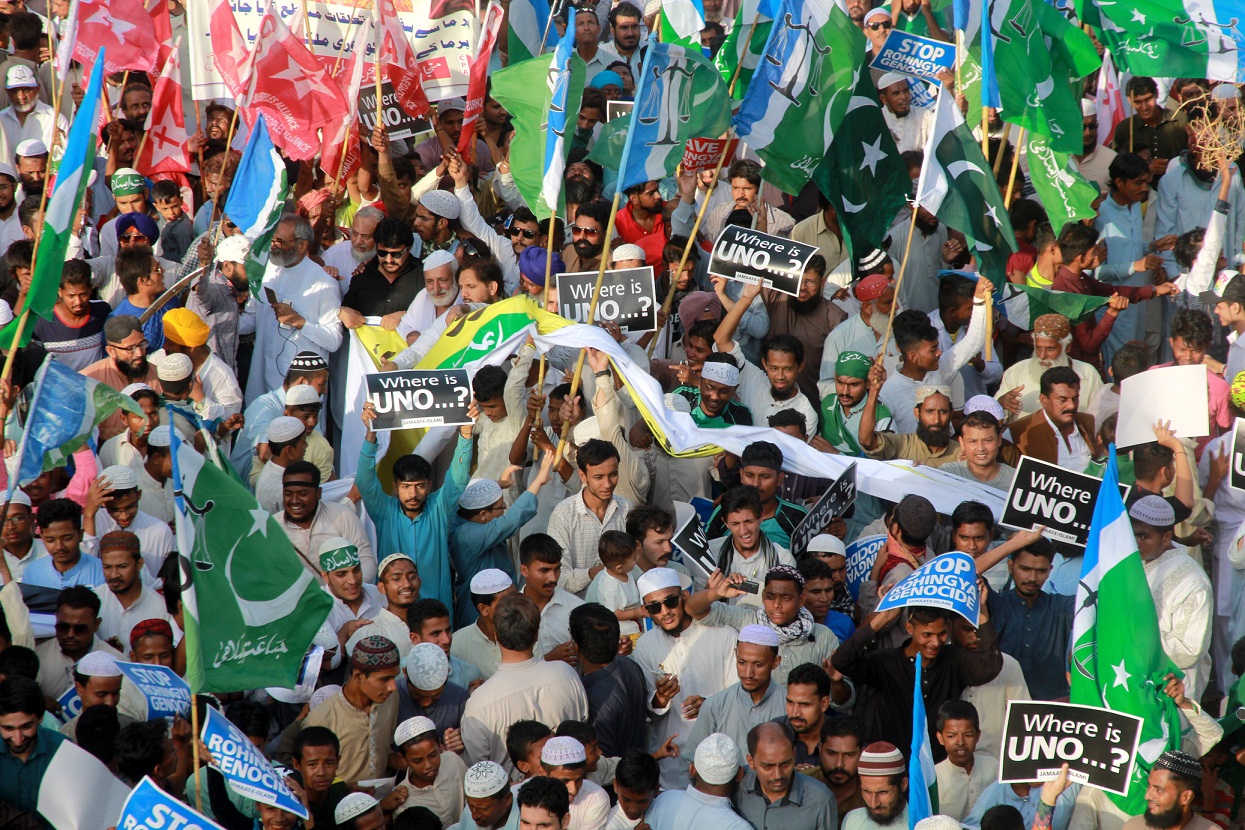 ---
KARACHI: Jamaat-e-Islami (JI), in a series of protest across the country against the atrocities in Myanmar against Rohingya Muslims, held a huge rally on Sunday on MA Jinnah Road, demanding immediate deportation of Myanmar's ambassador in the country.
Earlier on Friday, JI had held a rally in Islamabad where it had planned to go all the way to the diplomatic enclave but was stopped by the police. Under the leadership of JI Ameer Sirajul Haq, the party managed to stage a major protest in support of Rohingya Muslims in Karachi on Sunday.

President Mamnoon, Erdogan discuss plight of Rohingya Muslims

The rally was attended by women and children holding placards demanding the Organisation of Islamic Cooperation (OIC) and United Nations (UN) break their silence on the atrocities against Rohingya Muslims.
A large number of Rohingya Muslims, residing in Karachi also participated in the rally.

Protesters denounce killings of Rohingya Muslims

Effigies of Myanmar State Counselor and Nobel Peace Prize laureate Aung San Suu Kyi and Burmese nationalist Buddhist monk Ashin Wirathu were burnt during the rally.
"It is sad to see the Muslim world divided and due, to a lack of unity among us, innocent Muslims in Rohingya are suffering atrocities," said JI Karachi Amir Hafiz Naeemur Rehman while addressing the rally.

Diplomatic protest: Pakistan calls for end to violence against Rohingyas




"Where are the so-called organisations that protect human rights and why can't they see how innocent children and women are suffering in Myanmar?" Rehman questioned, adding that there is not a single word of condemnation from them.
He criticised the UN and OIC for doing nothing for Rohingya Muslims, adding that the OIC must come forward immediately and play a key role in protecting them. He said that OIC should send a message to Rohingya's government to stop their atrocities otherwise forces of Muslim countries would move to save their innocent brothers.

Malala condemns suffering of Rohingya Muslims


"A Muslim genocide is taking place in Myanmar which the world has not recognised as they keep their eyes closed when it comes to atrocities against Muslims," said Haq, while addressing the rally via a video link from Lahore.




Haq said that we demand all countries end the diplomatic relations with Myanmar and let them be aware of the power of the Muslim world by uniting together.

Ethnic cleansing: Pakistan urges halt to Rohingya massacre

"It is high time we raised our voices for Rohingya Muslims and showed support for them," he added.
He said that what is shown in the news and social media is just a small part of what is going on there and hundreds of mosques have been burnt, which shows hatred against Islam and Muslims.
"The recently made Islamic Military Alliance was initiated to curb terrorism but isn't this terrorism against Rohingyas Muslims in Myanmar? Why can't this military alliance take action to safeguard its brothers?" Haq questioned.

Myanmar violence may have killed more than 1,000 Rohingya Muslims: UN rapporteur

He asked the participants to make a pledge to support the Rohinyga Muslims until peace is restored.
JI Secretary-General Laiquat Baloch said that the government of Pakistan should have expelled Myanmar's ambassador. He criticised human rights activists and asked why they are silent on the issue and when are they going to raise voice for the Rohingya Muslims.

Pakistan urges Myanmar to ensure safety of persecuted Rohingya Muslims




"All we need right now is one voice against Myanmar regardless of what cast, creed, sect or country we belong to, we must only focus on saving our Rohingya brothers," Baloch added. Jamiat Ulema Islam leader Aslam Khan, Pakistan Muslim League - Nawaz Secretary-General Khawaja Tariq, Sardar Hira Singh from the Sikh community and Pastor Shehzad Buksh from the Christian community also attended the rally.
COMMENTS
Comments are moderated and generally will be posted if they are on-topic and not abusive.
For more information, please see our Comments FAQ