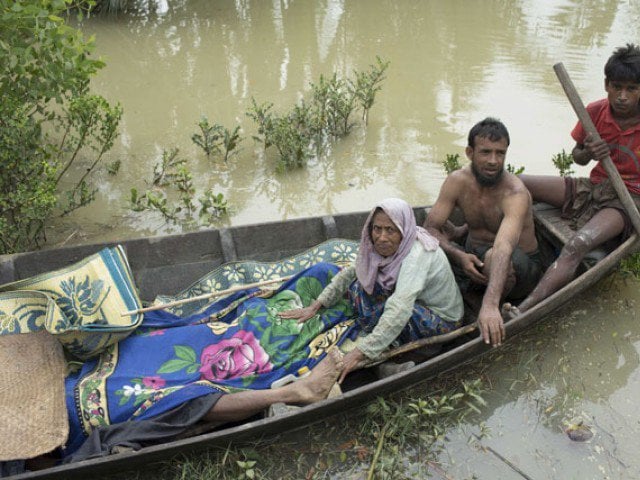 ---
ISLAMABAD: Amid unrelenting street protests against the 'genocide' of Rohingya Muslims, Pakistan on Saturday summoned Myanmar's Ambassador U Win Myint to lodge a protest over the killings of Rohingyas in Rakhine state.

Foreign Secretary Tehmina Janjua called on the government in Yangon to take steps to prevent violence, provide security to the Rohingyas and uphold their rights to live and move without fear and discrimination, the Foreign Office said in a statement.

She also called for urgent investigations into the recent violence against the Rohingya Muslims and holding accountable those involved in these serious crimes. As part of a durable settlement of the problem, the swift implementation of the recommendations of the Kofi Annan Commission was emphasised. These include urgent and sustained action to prevent violence, maintain peace, foster reconciliation, assure unhindered humanitarian access and address the issue of citizenship.

Myanmar 'to provide aid' to displaced Rohingya inside country

Ambassador Myint assured the foreign secretary that he would convey the concerns of the government and the people of Pakistan to the Myanmar government, the statement added.

Earlier on Thursday, the federal cabinet came down hard on Myanmar over the persecution of the Rohingyas. It condemned the "cold-blooded and callous genocide of innocent Rohingya Muslims, including women, children and even infants under the direct patronage of state institutions of Myanmar".

Prime Minister Shahid Khaqan Abbasi chaired the cabinet meeting. A statement issued after the meeting said: "The brutal and barbaric acts perpetrated against the unarmed civilian population not only constitute state terrorism but also question the collective human conscience across nations and societies. The atrocities have also revealed the appalling hypocrisy of the democratic leadership of Myanmar."

Myanmar 'to provide aid' to displaced Rohingya inside country

The cabinet passed a resolution calling upon Nobel laureate and the ruling party leader in Myanmar, Aung San Suu Kyi, to take immediate steps to stop the atrocities being committed in her country. It also called upon the United Nations to take the lead, under its mandate, in immediately stopping the genocide of Rohingya Muslims.

Around 300,000 Rohingya have been displaced to neighbouring Bangladesh due to their persecution at the hands of the Myanmar Army and Buddhist extremists who unleashed the spree of violence after a security pocket was attacked in Rakhine state, killing nine security officials.

The UN and much of the international community have condemned the persecution of the Rohingyas and called for an immediate end to the violence. Suu Kyi has been on the receiving end of harsh criticism for her silence over the genocide. Myanmar has also blocked the entry of UN humanitarian aid into regions where Rohingya Muslims live.




COMMENTS (2)
Comments are moderated and generally will be posted if they are on-topic and not abusive.
For more information, please see our Comments FAQ