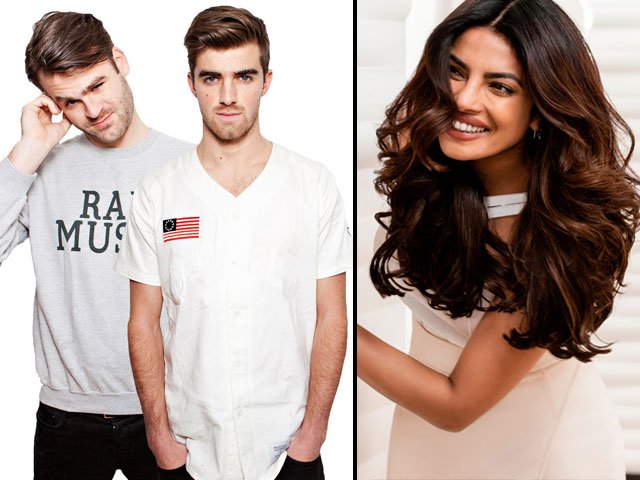 ---
They felt "strange" with the fame that came with the popularity of their single Closer, and feel they still have a lot to prove.

Thousands gathered in Delhi and swayed to the music of American DJ duo Andrew Taggart and Alex Pall, popularly known as The Chainsmokers.

Behold! It's India calling for The Chainsmokers in September

In an exclusive interview  with Hindustan Times, Alex, 32, and Andrew, 27, who collaborated with Bollywood diva Priyanka Chopra for the 2012 track Erase, tell us that they want to act with her in a film. "We have no plans as of now, but we're open to working with her again," says Alex. Andrew quickly adds, "We want to act with her now. We have already done a song [together], so now we want to act in a Bollywood movie with her!"

https://www.instagram.com/p/BX4m_Uxn4m4/?taken-by=thechainsmokers

They had plans to meet actor Shah Rukh Khan, though that fell through. "We were supposed to meet Shah Rukh Khan in Mumbai, but because of the schedule everything got messed. He seems pretty cool, we wouldn't mind hanging around with him. He looks like a pretty cool dude who would be easy to get along with," says Alex.

Calvin Harris tops Forbes list of highest-earning DJs for fifth consecutive year

So, are they interested in Bollywood films? "Hell, yeah!" they say, almost in unison.

"We were supposed to meet Shah Rukh Khan (after the Mumbai gig) but everything got messed up. He seems (to be) pretty cool and (we) wouldn't mind hanging out with him sometime," they said.

https://www.instagram.com/p/BY1xb8FHz6T/?taken-by=thechainsmokers

Talking about how both of them have been in contact with their Indian fans, Alex says, "I've been talking to a bunch of kids on Instagram and they were already nice and excited. I had asked everyone on Twitter what songs they like and we got [a] bunch of responses."

Their 2016 track Closer became a worldwide rage and got them superstardom overnight. However, in their mind, they're still "kids" who like cool music.

The Chainsmokers album debuts at No.1 on Billboard

"That song gave us an identity," says Alex. "In a lot of cases with DJs, people know their music but don't know [what] they look like. But then Closer became a hit song and we were performing it on various platforms. We felt famous for the first time, which feels really strange because till date, we're still the same kids who are trying to make cool music."

Have something to add to the story? Share it in the comments below.