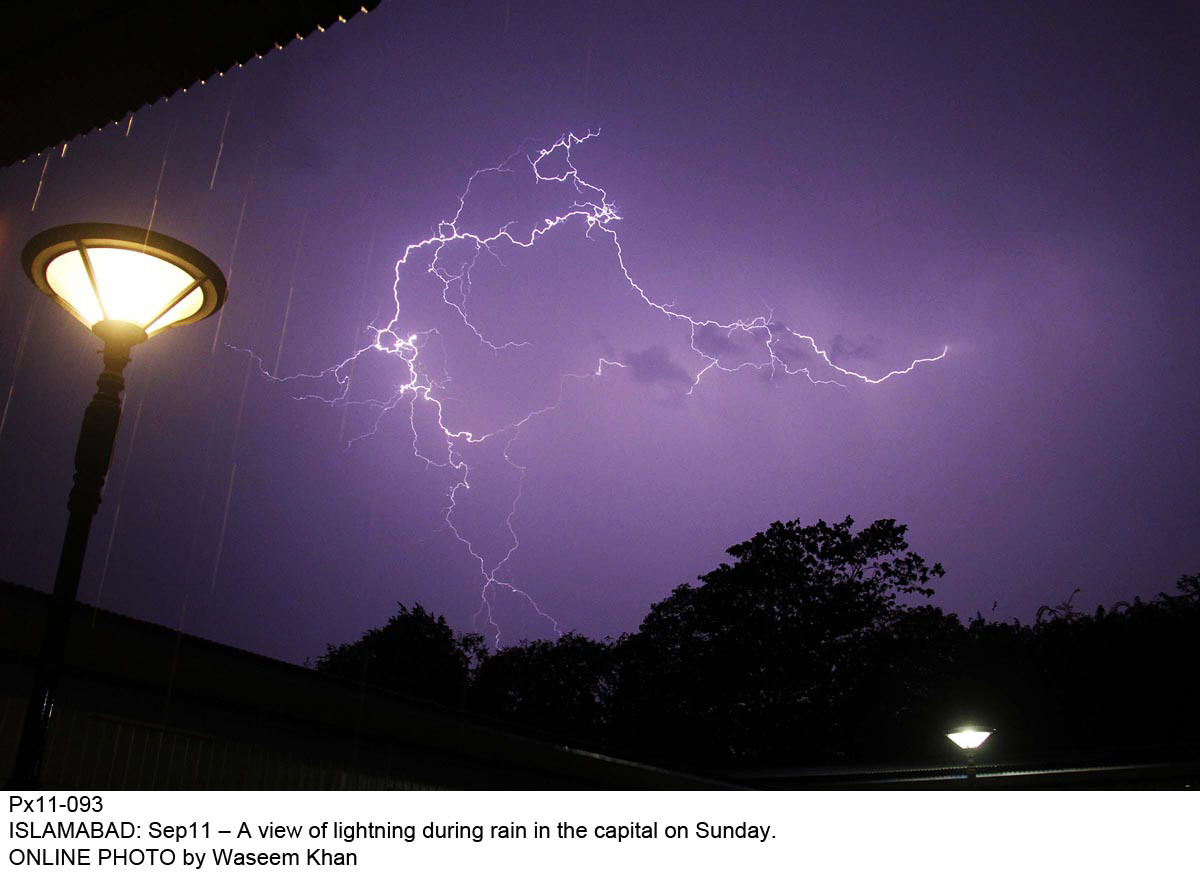 ---
KARACHI: A second spell of monsoon rain is about to hit the coastal belt of the country, which include coastal parts of Sindh and south eastern parts of Balochistan, from Wednesday night till Saturday morning.

According to a weather warning issued by Pakistan Meteorological Department, Karachi and other coastal areas of the province are likely to experience soaring temperatures for a couple of days, which will then be followed by a heavy downpour starting from late Wednesday night.

The temperature is expected to increase over 40°C and sea breeze will also be at its very low due to the rainfall system. "Another rain system had developed in the Bay of Bengal, which will hit India's Gujrat and Rajasthan," Abdul Rashid, Met Office Karachi Regional Director told The Express Tribune. "From Wednesday the system will bring heavy rainfall to coastal parts of Sindh, including Karachi."

Thunderstorm on second consecutive day cripples Karachi




The Met office has warned of urban flooding if necessary arrangements are not taken by the municipal authorities. Rashid advised the authorities concerned to ensure cleanliness of storm water drains system of the city to avoid flooding.

No preparations again?

At least 24 people were killed in rain-related incidents when heavy showers lashed the metropolis last week. Over 300 feeders of K-Electric (K-E), the private power supplier of the city, tripped following the heavy rains and thunderstorm, while most fatalities were caused by electrocution. The swamping of roads created traffic jams, as dozens of vehicles broke down in the middle of the roads at different places.

During the recent spell of rain last week, District Malir was one of the most affected areas that remained submerged in rainwater for days, even after the rain had stopped. Now that another spell of rain is ready to hit the city, it can cause way more damage to the city.

Karachi Metropolitan Corporation officials said that with limited resources and power they are trying their best to serve the people and try to provide them with relief at any cost. A senior director for municipal services shared that all their arrangements have been done, including repair of suction pumps, in order to deal with any emergency. The director told The Express Tribune that work is under way to clean the drains.

Sanitary department incharge of Cantonment Board Clifton, Amir Azeem, believes that they are capable of dealing with any difficult situation. According to Azeem, in Defence and Clifton the water drains away after the rain stop, however, their staff is also available 24 hours to keep checking if any water drain has been blocked.








Speaking to The Express Tribune, Local Bodies Minister Jam Khan Shoro claimed that the government's performance during the monsoon season was satisfying as there was no such situation of urban flooding. Shoro added that he issued directions to all the departments, including mayor, commissioner and Karachi Water and Sewerage Board managing director to remain alert when the city will receive upcoming rain.

Meanwhile, according to K-E Marketing and Communication Director Sadia Dada, the power utility has already initiated an emergency plan in light of the possible heavy rainfall, while teams will remain active 24/7. "K-E's command and control centre is actively monitoring the situation and will remain on standby during the rain," she said, adding that K-E has cautioned the citizens to stay away from downed power lines and not stand under PMTs or near billboards and electricity poles during the rain.

Cattle market

Traders at Sohrab Goth's cattle market have expressed their concern that they will again have to bear loss if the city is lashed with another heavy downpour. The traders claimed that the recent rain had already given them much loss and they are worried that this rain will cause more destruction to the cattle market. "The administration has to do something because we are poor people and cannot afford a loss of even a penny," said Murtuza Taili, a trader who sell sheep at the market.

The administrator of the market, Syed Irshad Ahmed, said that unfortunately the market is located at such a place where there is now way for water to drain. According to him, all they can do is either suck the water from jetting machines or pump it to any vacant location. "We understand the pain of these poor traders who have come from remote areas of the country." he said.
COMMENTS
Comments are moderated and generally will be posted if they are on-topic and not abusive.
For more information, please see our Comments FAQ