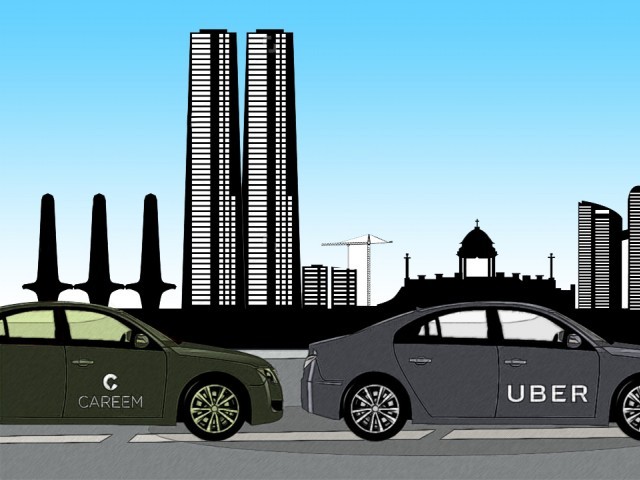 ---
ISLAMABAD: Days after taxi driver staged a protest in the capital against app-based taxi services, the Islamabad Transport Authority on (ITA) on Thursday suggested that vehicles working for such services would be forced to display stickers apart from following government-regulated tariffs.

The move is part of a new set of proposals which aim to streamline such services and end the rift between traditional taxi drivers and the new services.

Scores of Islamabad's cabbies protest against online taxi services

Talking to APP, ITA Secretary Jawad Muzaffar said after several rounds of consultations with taxi drivers and ride-sharing services such as Careem and Uber, ITA had put forward some recommendations to streamline the affairs.

In this regard, he said a checklist was being devised to cover all legal and technical loopholes to bring online services into the mainstream. This checklist would be shared with the concerned departments for consultation.

The recommendations, Muzaffar said, include fitness certificate to private cars working for the ride-sharing services. The certificate would be issued by Motor Vehicle Examiner (MVE).

Moreover, Muzaffar suggested that facilities for issuing route permits for vehicles working for ride-sharing services would be ensured.

The app-based services would also be forced to display customised stickers on the front and back windscreens of vehicles.

"We would issue a fare list to the app-based services which they would have to follow strictly," Muzaffar said, adding that insurance for passengers insurance would also be mandatory for their safety.

"We had also received a proposal from the director of the Excise and Taxation Department that app-based vehicles' status should be converted from private to commercial," the ITA secretary said.

However, drivers working for the online services termed the measures a means for traditional taxi drivers to create hurdles in their work.

"People are using our services because of cheap fares and quality facilities offered by our company," said Awais Khan, who signed up with the ride-sharing service Careem.

He dismissed competition from traditional taxi drivers in in the capital.

"They [traditional taxi services] must adopt new techniques to remain in the market," he said.

Uber vs Careem: Which online taxi service is better

However, traditional taxi driver Raja Basharat had a different view of the situation. He noted that they had been paying heavy taxes over the years for operating commercial vehicles.

He, however, said that they were only demanding that all such services should be dealt evenly under the law and an even field should be built kind to create a competitive environment.

Earlier this year, the ride-sharing services ran into trouble with Islamabad's district authorities after a notification was issued which declared that cab services operating in the capital city without registering with any regulatory body or carrying the requisite fitness certificates and route permits were doing so illegally. The notification followed a crackdown against such services, but the services managed to seek a stay from the court.

In April, when Uber was formally launched in the capital, Muzaffar had told The Express Tribune that they had allowed the service to operate on the condition that it would conform to the motor vehicle laws at a later date and that they were still working on finalising modalities on how to regulate such services.

Published in The Express Tribune, August 25th, 2017.
COMMENTS (1)
Comments are moderated and generally will be posted if they are on-topic and not abusive.
For more information, please see our Comments FAQ