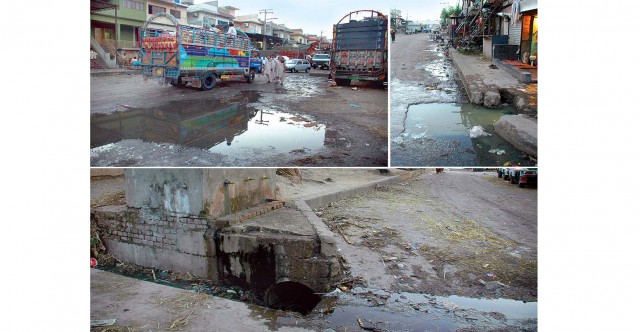 ---
ISLAMABAD: The sewerage system of the I-10/4 fruit and vegetable market in Islamabad is in a dilapidated condition.

Some pipes are broken and puddles of water can be seen at various locations around the market. Tahir Ayub, President of the fruit Association Sabzi Mandi believes that the sewerage system of this mandi is in a critical condition and blames the CDA for neglecting the area's maintenance. CDA Spokesperson Ramazan Sajid said that the situation had been worsened by people altering the pipelines.

"We have already issued warnings regarding unhygienic conditions; our next step is to fine them and then seal them in extreme cases," he said. Shopkeepers and Ayub estimate that everyday 25,000 people visit the market and most of these are from poor families. Ayub claimed that the I-10/4 is Asia's largest wholesale market; however, WikiAnswers gives this title to Al Awir fruits and vegetable market, Dubai, U.A.E. Members of the fruit association claim to have spent Rs80,000 on the area's sanitary system after being frustrated by the CDA's lack of interest.

They said that when construction of a new road by CDA began, they had pointed out these basic issues but had been ignored. Both parties agreed that the hygiene issue had been persisting since the 1990s but Sajid said that the damaged pipelines would soon be replaced.

He said the sewage pipes were "choked" and that a survey was being conducted to estimate the cost of repair works. Members of the fruit association said that their water was not being supplied and yet the market was being charged for water and conservancy charges. They also complained that the area's water filtration plant was not functional.

Published in the Express Tribune, May 21st, 2010.