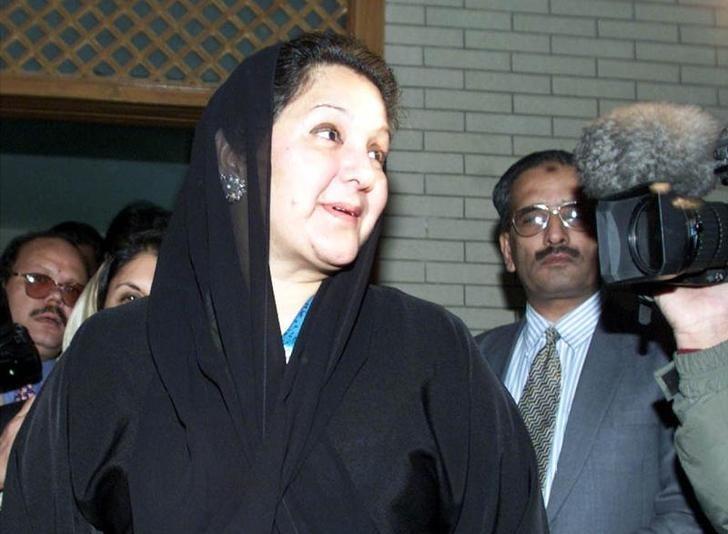 ---
HYDERABAD: While the wife of deposed prime minister Nawaz Sharif has filed nomination papers to contest by-election for NA-120, a 17-year-old FIR has surfaced against Kulsoom Nawaz on charges of treason. Interestingly, the current president of Pakistan, Mamnoon Hussain, is also nominated in the FIR.

The case had been closed after a deal was struck between the then military ruler, Pervez Musharraf, and the Sharif family. But now after the FIR surfaced, the police have decided to consult legal experts over the issue.

On October 12, 1999 when Musharraf toppled Sharif government and put him in jail, Kulsoom took over the reins of the party and travelled across the country to muster support for launching a movement against the Musharraf's coup.

PTI leader tweets Kulsoom Nawaz's 'Iqama'

On March 10, 2000, Kulsoom came to Hyderabad and addressed a convention of party workers at the house of the late PML-N leader Allah Baksh Magsi.

On the instructions of the then government, the Cantt police station SHO, Hamid Ali Thaeem, registered a case on charges including instigating people to revolt against the government and the army, urging people to commit self-immolation, stoking unrest in the country, creating propaganda against Kulsoom. The FIR was registered under Sections 153, 153 (A), MPO 16-124 (A), 7 (A) and 7 (B) of the Ant-Terrorism Act, 1997.

In the case, Kulsoom, Allah Baksh Magsi, Afzal Gujjar, Imdad Chandio, Begum Tehmina Daultana, Shah Muhammad Shah, Mamnoon Hussain, Haleem Siddiqui, Ismail Rahu, Asghar Ghuman, Begum Ishrat Ashraf, Saud Ahmed Farooqi, Kanwar Jaffar Ali, Rizwan Chanar, Ali Baksh Shah alias Piyo Shah, Roshan Baloch and Chaudhry Mazharul Haq were nominated. The name of Mamnoon Hussain, the incumbent president, was on the seventh place.

After the intervention and mediation of friendly Arab states, Musharraf and the Sharif brothers cut a deal and the same year in December the Sharif family was sent into exile – some say for a period of 10 years. And the case against Kulsoom and others was closed.

As soon as Kulsoom filed her nomination papers for the NA-120 by-poll, the FIR resurrected.

NA-120 by-poll: PML-N fields Kulsoom Nawaz for key contest

According to sources, police officials in Hyderabad were unaware of the situation until the media reported it. Now, they have directed their subordinates gather all the information related to the case.

Sources say keeping in mind the sensitivity of the case, SSP Hyderabad Amjad Ahmed Sheikh has contacted top police officers and will consult legal experts before reopening the case.

SHO Thaeem, Allah Baksh Magsi and Kanwar Jaffer Ali have died, while Afzal Gujjar, Ismail Rahu and Ali Baksh Shah have joined the PPP and Chaudhry Mazharul Haq is a central leader of PML-Q.




COMMENTS (10)
Comments are moderated and generally will be posted if they are on-topic and not abusive.
For more information, please see our Comments FAQ