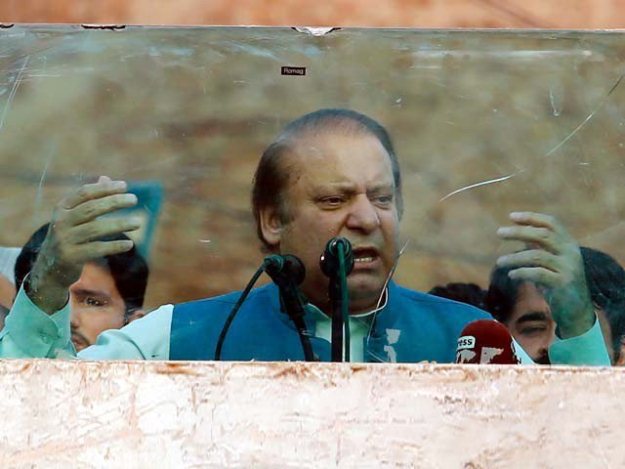 ---
Hearing a writ petition on Tuesday seeking contempt and treason proceedings again former PM Nawaz Sharif and others leader  of his party, the Lahore High Court (LHC) questioned the maintainability of the plea.

Justice Mamoon Rasheed Sheikh asked the petitioner's counsel as to how had the former premier committed treason in his recent speeches when his own party was ruling the country.

The petitioner's lawyer, Advocate Azhar Siddique responded that Sharif was no longer the PM or the head of the ruling Pakistan Muslim League-Nawaz.

He added that the Pakistan Electronic Media Regulatory Authority and the information minister were contacted several times to take notice of Sharif's remarks against the judiciary over his disqualification by the top court but they did not respond.

Plea filed in top court seeking ban on airing Nawaz's speeches

He sought time from the court to amend the petition.

The court, however, served notices to Sharif, other PML-N leaders including Rana Sanaullah, Pervaiz Rasheed, Mushahid Ullah Khan, Tariq Fazal Chaudhry, Talal Chaudhry, Khawaja Saad Rafique, Maiza Hameed, Abid Sher Ali, Khawaja Asif, Danyal Aziz, Asif Karmani, and Ishaq Dar and Pemra Chairman Absar Alam.

They were told to respond to the notices by August 25, the next date of hearing.

The petition was filed by Amaan Welfare Foundation President Amina Malik on August 12. She sought contempt proceedings against Sharif under Article 204 of the Constitution.

Last month, the apex court had unanimously disqualified Prime Minister Nawaz Sharif due to his failure to disclose his 'un-withdrawn receivables, constituting assets' in his nomination papers filed ahead of the 2013 general elections.

Sharif calls ouster 'insult to voters'

The court also ordered NAB to file the references within six weeks before the accountability court of Rawalpindi-Islamabad on the basis of the material collected and referred to by the Joint Investigating Team that probed into Sharif's offshore assets as revealed in April last year by Panama Papers.

A defiant Sharif, during his 'homecoming' rally from Islamabad to Lahore via GT Road, criticised the judiciary for forcing him to quit as prime minister, saying it was an 'insult' to 200 million people of Pakistan that their elected leader was unceremoniously ousted with a single stroke of pen.