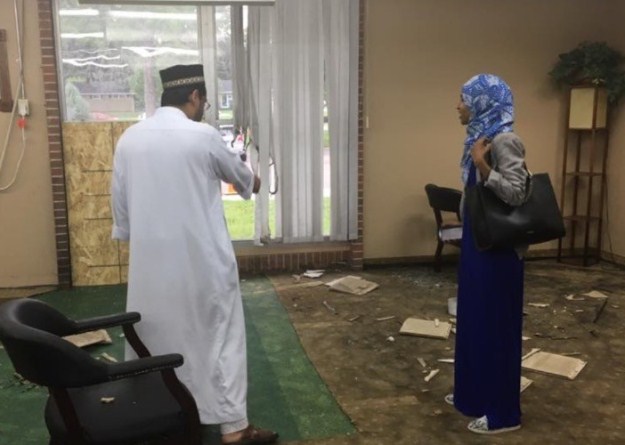 ---
MINNEAPOLIS: The Federal Bureau of Investigation on Saturday took over the investigation of an early-morning bombing of a mosque in Bloomington, Minnesota. While the explosion caused some damage, nobody was hurt.

Anti-Muslim incidents have risen sharply in the US over the past year, according to a review by the Council on American-Islamic Relations, which offered a $10,000 reward for information leading to the arrest and conviction of the Minneapolis area bomber.

Police in Bloomington, Minnesota, were called at 5:05am  about an explosion at the Dar al-Farooq mosque, after a bomb was thrown through the window of the imam's office while worshippers were gathered for morning prayers.

Mohamed Omar, the mosque's executive director, told reporters in Bloomington that a member of the congregation saw a pickup truck speeding away from the building's parking lot just after the blast.

Quebec's Muslim to have their own cemetery

"Preliminary investigation indicates the explosion was caused by a destructive device in violation of federal law," the FBI's Minneapolis division said on Twitter.

The Bloomington Police Department said on Twitter that the Bureau of Alcohol, Tobacco and Firearms had also joined the probe.

"When officers and fire personnel arrived, what they found there was some smoke, some damage to the building, but no one was injured," Police Chief Jeff Potts said at a news conference broadcast by local media.

Several other area religious leaders joined members of the mosque on Saturday to express support.

"It's a tragedy that we have to gather here today," Curtiss DeYoung, executive director of the Minnesota Council of Churches, told reporters shortly after Omar spoke.

Water thrown on two Muslim women in UK 'fake acid attack'

"We are here showing solidarity and support for Muslims, not only in this centre but Muslims across our state and our country that are under these kind of attacks."

A May analysis by the Council on American-Islamic Relations found 2,213 anti-Muslim bias incidents in the US last year, up 57 per cent from 2015.

The council urged US mosques to increase their security following the Bloomington incident.
COMMENTS (2)
Comments are moderated and generally will be posted if they are on-topic and not abusive.
For more information, please see our Comments FAQ