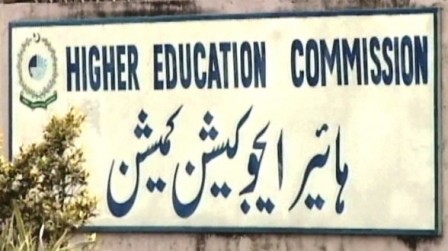 ---
ISLAMABAD: Under its overseas scholarship programmes, the Higher Education Commission (HEC) has sent 5,780 scholars to various academically advanced countries for Masters, MPhil and PhD studies.

Of them, 3,807 scholars – or 65% approximately – returned to Pakistan after completing their studies abroad, according to a press release issued by the HEC on Saturday.

Overseas scholarship programmes produce highly qualified human resource, which can boost the country's socio-economic development, says the HEC press release.

Govt slashes HEC's development budget by over 50%

Since 2003, scholars have been receiving education from top-ranked universities in Australia, Austria, Belarus, Belgium, Canada, China, Cuba, Denmark, France, Germany, Hong Kong, Hungary, Italy, Malaysia, New Zealand, South Korea, Spain, Sweden, The Netherlands, Thailand, Turkey, the United Kingdom and the United States, it says.

Describing the various steps of the process, the HEC release says that under the programmes, interested candidates, meeting the eligibility criteria, were required to apply against an advertised scheme. The eligible candidate had to score at least 50 marks in the aptitude test conducted by the HEC. Merit lists were prepared on the basis of aptitude test and academic score, and shortlisted candidates had to secure admission or receive acceptance letter before interview. Final selection of candidates was made by foreign professors through interview.

Finally, the selected candidates were advised to obtain visa of the host country. Before departure, the HEC provided one-way airfare and two-month advance stipend in the form of crossed cheque which could only be deposited in the scholar's account.

HEC deadline to meet criteria ends on 30th

The rest of the scholarship amount would be remitted on annual basis into the bank accounts of either HEC's partner institutes or the Pakistan missions abroad. The partner institution or high commission would then remit funds into HEC scholar's account on a monthly basis.

In light of the HEC Vision 2025, the HEC plans to take the number of PhD faculties in higher education institutions to around 40,000 to cater to the country's growing higher education needs, says the HEC.

A number of overseas and indigenous PhD schemes will help produce qualified faculty members in various disciplines who will serve in different institutions throughout the country.


COMMENTS
Comments are moderated and generally will be posted if they are on-topic and not abusive.
For more information, please see our Comments FAQ