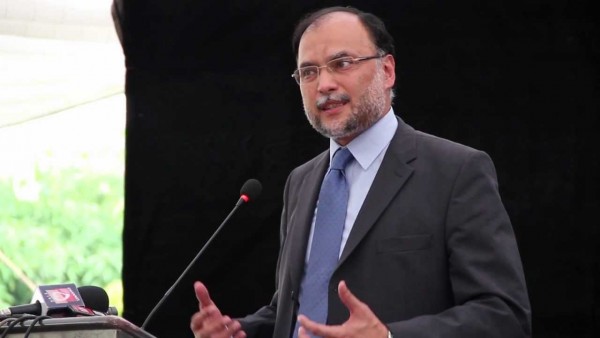 ---
ISLAMABAD: The newly appointed interior minister, Ahsan Iqbal, has said the PML-N government's counter-terrorism policies have been largely successful over the past four years and that these policies will continue under the new cabinet.

"Operation Radd-ul-Fasaad will be completed as peace and development are interlinked," Iqbal said on Friday while attending two separate ceremonies held to mark Police Martyrs Day in the federal capital.

Pakistan most effective bulwark against terrorism

Iqbal, who previously held the planning and development portfolio, also stressed the need for promotion of tolerance and compassion in society as one of the means to reduce crime.

Asked whether his supervision of the police would be different from that of his predecessor Chuadhry Nisar Ali Khan, Iqbal said the new cabinet would continue the policies of the previous cabinet. "Only the PM has changed. It's the same government and same policies," he remarked.

Laying floral wreath at the Police Martyrs Monument at Islamabad's Melody area, Iqbal eulogised the services of martyred policemen.

"Thousands of policemen have sacrificed their lives for the nation. Not only them but also their family members are our national heroes," Iqbal said, as he promised to ensure welfare of the martyrs' families.

Iqbal said he would complete the model police station project; and promised police reforms, as well as a professional and community-based policing in the capital.

Counterterrorism strategy: Govt, military command to work out three-pronged plan

To a question about performance of Islamabad Police in a child kidnapping-for-ransom case, Iqbal admitted that administrative structure in the country is weak.

"But the kidnappings and other crimes also take place in countries that are more developed than us," Iqbal said. He, however, said the government would work to reduce the crime and for a just and equal application of law.

During the interior minister's visit, several roads in Melody area remained closed for traffic for hours as part of security and traffic arrangements for the ceremony which was held on the main road.