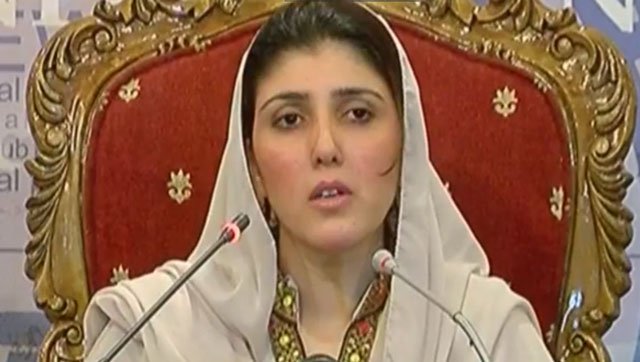 ---
ISLAMABAD: The Pakistan Tehreek-e-Insaf (PTI) on Wednesday served MNA Ayesha Gulalai, who leveled serious allegations against Imran Khan a day earlier, a show-cause notice, suspended her basic party membership and demanded she resign from her National Assembly seat.

The notice came as the PTI chairman broke his silence on Wednesday, accusing the ruling Pakistan Muslim League-Nawaz (PML-N) and the owner of a media house of 'stooping very low' in their pursuit of an anti-PTI agenda in the aftermath of the Supreme Court's disqualification of former prime minister Nawaz Sharif.

"My challenge to the Sharif-MSR [Mir Shakeelur Rehman, the owner of Jang/Geo group] mafia is: Do your worst, stoop as low as you can, me and my struggle-hardened party will become ever stronger," Imran tweeted Wednesday night instead of directly responding to Gulalai's allegations.

Disqualification reference filed against Imran over Gulalai allegations

The show-cause notice served on Gulalai states that she has been found involved in acts of misconduct and violation of PTI's disciplinary rules by holding a meeting with the Khyber-Pakhtunkhwa governor, leveling baseless and serious allegations against the party chief and abstaining from voting for the prime ministerial candidate nominated by party.

"In view of the stated facts, your party membership is suspended with immediate effect," reads the notice, issued with the signature of PTI General Secretary Jehangir Tareen.

Gulalai has been asked to submit a written reply to the notice within seven days, explaining why her PTI membership should not be scrapped. "You are also required to submit your resignation from women's [NA] seat as required by article 63A of the Constitution," the notice adds.

Earlier, PTI spokesperson Fawad Chaudhry said the party would request the Election Commission of Pakistan (ECP) to de-notify Gulalai if she refused to leave her lower house seat.

Ayesha Gulalai will be tried in jirga before facing court, say PTI's K-P female MPAs

Flanked by female representatives of the PTI protesting against Gulalai outside the National Press Club, Chaudhry alleged that Gulalai held her news conference on Tuesday to taint the PTI chief's reputation after accepting a Rs50 million bribe from a PML-N leader from Khyber-Pakhtunkhwa. He also claimed Gulalai and her father met PML-N K-P leader Amir Muqam recently.

At the same time, the PTI spokesperson distanced the party from a legal notice served on Gulalai by 'a former PTI activist'. The notice asked the MNA to either substantiate her allegations against Imran with evidence, tender an unconditional apology to him or to pay Rs30 million in compensation for damage caused to the PTI supremo's reputation.

"This legal notice has nothing to do with the PTI. It has been sent by an individual in his private capacity without bringing it into the knowledge of the PTI chief," Chaudhry said.

Meanwhile, in an attempt to draw maximum political mileage, former PML-N MNA Hanif Abbasi demanded a forensic probe of Imran's Blackberry record and announced he would file a reference with the ECP, seeking the PTI chief's disqualification.

The Women's Parliamentary Caucus, in a statement, also called for an unbiased, thorough and transparent investigation in light of Gulalai's allegations.